Get involved. Join the LPI community.
Meet Our Executive Team
We invite you to meet our team members. As a non-profit organization, LPI relies on the efforts of numerous volunteers from around the world. To assist with this effort, LPI also has staff and contractors who ensure the daily operations of the organization.
Executive Director - G. Matthew Rice
G. Matthew Rice has over 25 years of experience working in ICT, is a licensed Professional Engineer in Canada and achieved his LPI certification in 2002.  His first source code contribution to open source was made in 1994 and he has regularly consulted with fortune 1000 companies on software development practices and DevOps.
Matthew previously held the position of Director of Product and Certification Development at LPI and was the lead architect of the certification program since 2006.  Trained in computer science, physics and engineering, he has been programming in high pressure situations since the 1980s, running his own businesses since the age of 15 and been a partner in Linux and open source centric businesses since the 1990s.
Chief Business Officer - Medina F. Dupuis
With LPI in various capacities since 2005, Medina Dupuis is a certified Project Manager (PMP) and brings a broad range of experience and skill sets to the organization. Medina is responsible for oversight in budgeting, financial management, contracts, human resources, procurement, compliance, real estate, facilities, information technology, risk management and sustainability. A special emphasis on planning and research supports contributions as part of the strategic planning team.
Chief Technology Officer - Kevin Glendenning
Kevin is LPIC-3 certified and has worked with LPI over the past 10 years. When Kevin joined the LPI team in 2006 he was responsible for many of the organization's exam development activities. Today, his team of administrators and developers at Starnix Inc. are responsible for the maintenance of LPI's IT infrastructure and development of the certification applications. Kevin is also a Subject Matter Expert involved in the exam development process at all levels, and was appointed as the organization's Privacy Officer in 2016.
Psychometrician - Alan D. Mead
Alan D. Mead, Ph.D. is an experienced psychometrician with extensive applied, academic, operational and research experience in psychometric methodology. He is a member of APS, SIOP, NCME, a member-at-large of the board of IACAT, and a consulting editor for Journal of Business and Psychology and Journal of Computer Adaptive Testing. He received his Ph.D. from University of Illinois at Urbana-Champaign with a concentration on organizational psychology and a minor in quantitative psychology.
Alan has been an enthusiastic Linux user since 1999 (Linux Counter # 143307 registered on 1999-08-10) and his involvement with LPI predates its formal incorporation. His LPI ID is LPI000001004 and he earned an LPIC-1 certification in 2004.
Director of Certification Development - Fabian Thorns
Fabian is M.Sc. Business Information Systems. He has used Linux since 1999 and began volunteering with LPI in 2010 after becoming LPIC-3 certified. Fabian is the co-founder of a consulting firm which specializes in Linux, Networking and Security. He is also a regular speaker at open source events and is the author of numerous articles and books.
LPIC-3 304: Virtualization and High Availability
The LPIC-3 certification is the culmination of LPI's multi-level professional certification program. LPIC-3 is designed for the enterprise-level Linux professional and represents the highest level of professional, distribution-neutral Linux certification within the industry. Three separate LPIC-3 specialty certifications are available. Passing any one of the three exams will grant the LPIC-3 certification for that specialty.
The LPIC-3 304: Virtualization and High Availability certification covers the administration of Linux systems enterprise-wide with an emphasis on Virtualization & High Availability.
Current Version: 2.0 (Exam code 304-200)
Prerequisites: The candidate must have an active LPIC-2 certification to receive LPIC-3 certification, but the LPIC-2 and LPIC-3 exams may be taken in any order
Requirements: Passing the 304 exam
Validity Period: 5 years
Languages: English, Japanese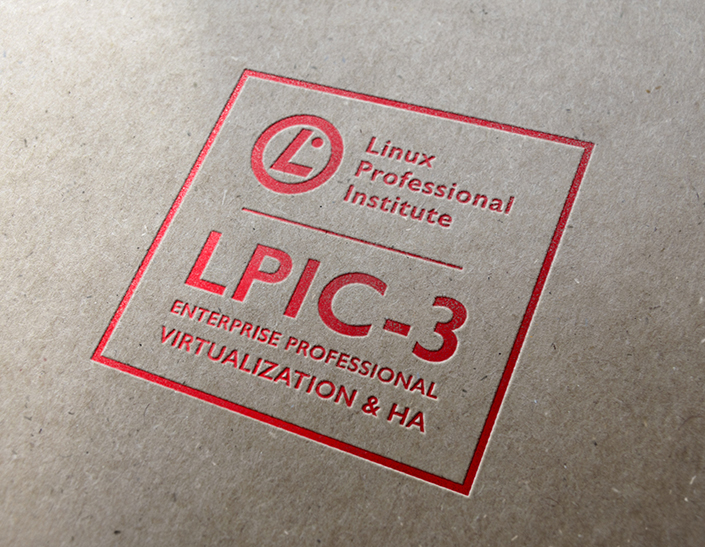 LPI is committed to providing the IT community with exams of the highest quality relevance and accuracy.
20% increase in bonus pay for LPIC-1/CompTIA Linux+The Foote Partners report IT Skills and Certification Index, 2014
33% increase in bonus pay for LPIC-2 certified professionals in only 3-monthsThe Foote Partners report IT Skills and Certification Index, 2014
25% growth in bonus pay for LPIC-3 certified professionals in one yearThe Foote Partners report IT Skills and Certification Index, 2014
To receive the LPIC-3 304: Virtualization and High Availability certification, you must be LPIC-2 certified and pass the 304 exam
At LPI we take the guesswork out of what's on the exam. Our exam objectives show you what topics you can expect to find on the exams as well as the relative importance of those topics. No matter which study resources you choose to prepare for your LPI exams, reviewing the individual exam objectives should be at the core of any study plan.
LPIC-3 Exam 304 Topics
Virtualization
High Availability Cluster Management
High Availability Cluster Storage
92% of employers said IT certified individuals receive higher starting salaries than those without.
-CompTIA HR Perceptions of IT Training and Certification Study
44% of hiring managers are increasing salaries for open source talent over other departments
-open source Jobs Report
87% of organizations say it's hard to find open source talent
-open source Jobs Report
Pages