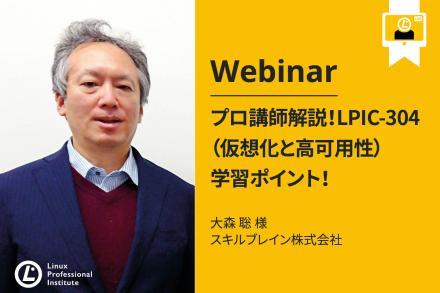 Everything you need to know to pass LPIC-304 (Japanese)
March 27, 2021 - 1:00PM JST
The Linux Professional Institute (LPI), Everything You Need to Know to Pass LPIC-304, webinar will be hosted by Satoshi Omori on 2021-03-27 (Sat) 13:00 JST. He will discuss the scope and objectives of LPIC-304 exam, key study points, KVM, LVS, Corosync, and Pacemaker, with demonstrations using PC.
Participate to learn more about;
what you need to prepare for LPIC-304 exam
the important study points
and the benefits you should get LPIC-304
Linux Professional Institute
Linux Professional Institute, our mission is to promote the use of open source by supporting the people who work with it. LPI is the global certification standard and career support organization for open source professionals. With more than 200,000 certification holders, we are the world's first and largest vendor-neutral Linux and open source certification body. We have certified professionals in over 180 countries, deliver exams in multiple languages, and have hundreds of training partners.
When is this webinar being hosted in your time zone?
Amsterdam, Berlin, Rome (5:00AM)
Toronto, New York (10:00PM)
Sao Paulo (1:00AM)