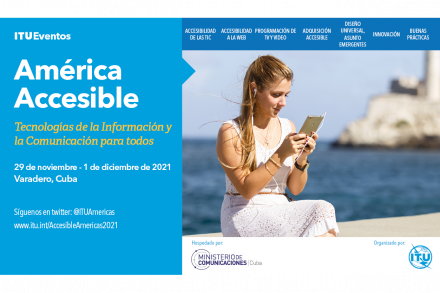 November 29, 2021
LPI excited to Participate in América Accesible
November 29 - December 1, 2021
América Accesible Organized by ITU Eventos from www.itu.int with the Ministerio de Comunicaciones of Cuba. The International Telecommunication Union (ITU). Linux Professional Institute (LPI) is thrilled to be attending América Accesible, in person! The event will be in Varadero, Cuba from November 29 to December 01, 2021. Follow the event live on twitter @ITUAmericas.
Follow Along with the Presentations! 
Challenges and opportunities for digital inclusion in the Region of the Americas (Day 1)
Emerging technologies and accessible designs for the quality of life of people with special needs. (Day 2)
Digital inclusion and the world of work: global challenges and opportunities post-Covid (Day 2)
We are excited to announce that LPI Executives will be in Cuba for days after the event, officially signing new Partners; Universidad de las Ciencias Informaticas de Cuba and Union de Informaticos de Cuba. While in Cuba, our staff members will be offering many Cubans the opportunity to take the Linux Essentials certificate and training new proctors!