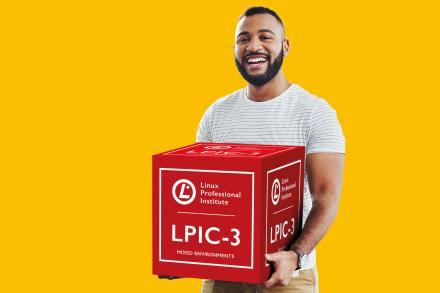 August 23, 2021
LPI Releases LPIC-3 Mixed Environments Version 3.0
Linux Professional Institute (LPI) released version 3.0 of the LPIC-3 Mixed Environments certification program. The release is a major update that brings fundamental changes to the exam objectives and adjusts the covered topics to recent changes in technology. The LPIC-3 certification series is the highest level offered currently by LPI and covers advanced open source topics in organizational computing infrastructure.
The new certification objectives focus on Samba 4 in conjunction with Active Directory Domains. A dedicated topic has been added which covers the management of Linux domains using FreeIPA as well as the integration of FreeIPA with Active Directory. Additionally, the exam no longer covers NT4 domains, NetBIOS services and OpenLDAP.The update is part of LPI's regular exam reviews.
"Version 3.0 is a complete redevelopment of the LPIC-3 Mixed Environments exam. We removed legacy tools and commands and added a set of powerful technologies that have become established in the corporate IT infrastructure of almost all enterprises" says Fabian Thorns, LPI's Director of Product Development.
"The update of the LPIC-3 Mixed Environments certification ensures that our exams test the skills demanded by industry today. Identity management and file services are business critical services and we are proud to certify experts who have the ability to implement such services using open source software in an enterprise environment." says G. Matthew Rice, Executive Director of LPI.
Thorns concludes his statement by addressing the LPI community. "I would like to thank LPI's exam development community and all subject matter experts involved in the update of the LPIC-3 series. Thank you all for being part of the LPI team, this update won't be possible without you."
The LPIC-3 Mixed Environments version 3.0 certification exams will be available in Pearson Vue testing centers and on the OnVUE online testing platform starting on Monday, August 23rd 2021. The exam will initially be available in English. A Japanese translation will be released soon. The exam objectives are available at https://www.lpi.org/our-certifications/lpic-3-300-overview.
In 2021, all LPIC-3 certifications will be updated to version 3.0. Further information about the LPIC-3 updates can be found at https://www.lpi.org/lpic-3-version-3-update. Additional information about LPI's certification programs and how to become LPI certified are available at www.lpi.org.
About the Linux Professional Institute:
Linux Professional Institute (LPI) is the global certification standard and career support organization for open source professionals. With more than 200,000 certification holders, it's the world's first and largest vendor-neutral Linux and open source certification body. LPI has certified professionals in over 180 countries, delivers exams in multiple languages, and has hundreds of training partners.