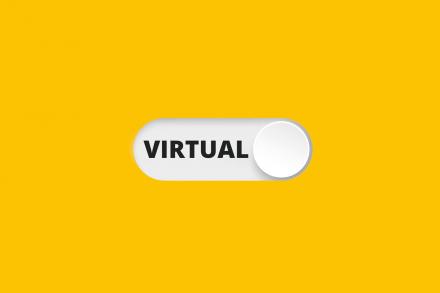 Virtual Open Source Events That You Shouldn't Miss
April 1, 2020 - by Kaitlin Edwards
The vast majority of events, globally, have either been cancelled or postponed due to the spread of COVID-19. However, some events have the resources to transition into virtual events. We have compiled a list of interesting events that you can experience from home, many of them being free. The list is updated regularly.
If you know of any virtual events that we could add to our list, please feel free to send an email to events@lpi.org. 
For LPI certification candidates who are prevented by COVID-19 protection measures from taking their LPI exam before the expiration date of their active LPI certification, we will extend the validity of their existing certification. Please visit lpi.org/coronavirus.
 
Virtual Events
September 7 - 10
WSIS Forum 2020 
- 
Free
The World Summit on the Information Society Forum 2020 represents the world's largest annual gathering of the 'ICT for development' community. The WSIS Forum, co-organized by ITU, UNESCO, UNDP and UNCTAD, in close collaboration with all WSIS Action Line Facilitators/Co-Facilitators, has proven to be an efficient mechanism for coordination of multi- stakeholder implementation activities, information exchange, creation of knowledge, sharing of best practices and continues to provide assistance in developing multi-stakeholder and public/private partnerships to advance development goals. This Forum will provide structured opportunities to network, learn and participate in multi-stakeholder discussions and consultations on WSIS implementation. The Agenda and Programme of the Forum will be built on the basis of the submissions received during the Open Consultation Process.
August 23 - 29
DebConf 
- 
Free
DebConf is the annual conference for Debian contributors and users interested in improving Debian. Previous Debian conferences have featured speakers and attendees from all around the world.
August 22 - 23
FrOSCon 
- 
Free
Free Software and Open Source - these are the topics of FrOSCon (Free and Open Source Software Conference). Every year in August the computer science department of the University of Applied Sciences Bonn-Rhein-Sieg, supported by FrOSCon e.V., will organize an exciting program with talks and workshops for visitors of all ages. The event is topped off with a fair of booths from FLOSS projects and companies. The social event, celebrated on Saturday night, offers the opportunity to exchange opinions with other visitors, speakers or volunteers.
August 21 - 23
CONFLOSS 
- 
Free
ConFLOSS aims to join the Free Software Events scenario in Brazil , providing all participants with Training, Professional Recycling and Networking. To this end, it will present Lectures and Tutorials on the following tracks; Development, Infrastructure, , Applications, and others
August 10 - 14
TeacherCon 
- 
Free
TeacherCon wants to empower you, educators across Canada, to confidently teach computer science in your classroom or extracurricular program! We're excited to bring you our third annual TeacherCon, a free multi-day conference experience for educators in the Canadian school system.
July 9 - 11
Campus Party Digital 
- 
Free
An entirely DIGITAL edition and simultaneously in more than 30 countries worldwide. 3 days 24h of live and on demand experiences, with national and international speakers. A global Job Factory and a Call For Ideas with the aim of connecting young innovators from all over the world to rewrite the source code of the planet together. Register to participate and stay updated on all the news of Campus Party Digital Edition.
June 16 - 18
The Open Source Infrastructure Conference 
- 
Paid
stackconf is about open source infrastructure solutions in the spectrum of continuous integration, container, hybrid and cloud technologies. International experts present their ideas for bridging the gap between development, testing and operations. Learn about innovative technology mixes and future-oriented design of large infrastructures.
June 12 - 14
SouthEast LinuxFest 
- 
Free
This a relaxed affair with modest expectations that is totally free for anybody to attend. The streaming starts Friday June 12th at 5:00pm ending with a live broadcast of Destination Linux at 3:30pm Sunday June 14th. Please note we have one prominent talk where we are soliciting nothing but user responses: Programs you use every day in Linux most people haven't heard of. Details for how to submit your own bit of content to that talk are included in the schedule linked below. While this isn't the "how am I supposed to choose between those talks!?" amount of content we're use to giving you, we hope this will fulfill your intake quotas for FOSS content and also helps add a sense of normalcy to your life in turbulent times.
June 2 - 6
BSDCan 
- 
Free
A BSD conference is typically held in Ottawa, Canada, quickly establishing itself as the technical conference for people working on and with 4.4BSD based operating systems and related projects. The organizers have found a fantastic formula that appeals to a wide range of people from extreme novices to advanced developers.
May 27 - June 10
Russian Internet Technologies 
- 
Paid
The online conference platform consists of a system of text chats for communication on various topics with the possibility of face-to-face communication, a set of voice chats, online broadcasts of reports and zoom-conferences for discussion areas, questions for speakers and discussion of various topics.
May 26 - 28
SambaXP 
- 
Free
SambaXP is the yearly Samba team meeting and it's ecosystem of developers, users and vendors all around the globe since 2002.
May 20
SUSECON Digital 
- 
Free
SUSECON Digital 2020, a digital event where attendees will be presented with digital formats of the conference content.
May 12 - 13
RedisConf 2020 
- 
Free
RedisConf 2020 Takeaway will deliver the same inspiring content already in the works—including keynotes, training, breakout sessions, hackathon, access to Redis Labs experts, and more.
May 11 - 13
DataStax Accelerate 
- 
Free
We're transforming DataStax Accelerate 2020 into Accelerate: A NoSQL Original Series, a combination of livestream and on-demand, binge-worthy episodes that capture how users and enterprises are succeeding with NoSQL and Apache Cassandra™
May 5 - 6
IBM Think Digital 
- 
Free
Attend Think Digital to learn how to best enable new ways of working, manage risk and optimize cost, and maintain customer satisfaction. Adapt quickly by leveraging the latest advancements in technology, then engage with the experts who are leading the way.
April 28 - 29
Red Hat Summit 2020 
- 
Free
Our virtual event will feature the keynotes, breakout sessions, and collaboration opportunities that you've come to expect from Red Hat® Summit. This programming will be shared as a blend of live and recorded content designed to inspire and engage a global audience.
April 24 - 26
Virtual Penguincon - Free
Since many presenters for Penguicon this year worked on their event presentations ahead of time and wanted some way to share that with our Penguicon attendees, we decided to help make that possible. This weekend, you can join presenters via their streaming method of choice to see a small portion of what was planned for this year.
April 24 - 25
Open Source Conference Tokyo Spring/Online - Free
Open Source Conference Tokyo 2020 provides the latest information about open source and will showcase an exciting group of open source organizations within the community.
April 16 - 18
TDCOnline Especial BH - Free
TDC is the largest event related to software development in Brazil connecting meeting and event organizers, speakers, companies and sponsors on a single platform, empowering the local ecosystem of each region where it takes place.
April 16 - 17
IoTFuse Conference 
- 
Paid
IoT Fuse started in 2014 as a small group of engineers, makers and software developers, lead by Patrick Delaney and Justin Grammens. The tech world had recently woken up and realized that with easily connectable wireless platforms and cloud services being easy to access – the Internet of Things was a real possibility. Of course, the knowledge and know-how about how to actually accomplish that connectivity was still fairly sparse.
April 15
All the Talks! - Free
A collaborative effort of speakers, organizers and sponsors from around the world to provide a platform for talks that have been cancelled.
April 11 & 18
.NET fwdays'20 - Paid
.NET fwdays'20 is a large annual conference that focuses solely on .NET Framework, brings together architects, developers and testers. 
April 7 - 8
Lead Dev Live 
- 
Free
LeadDev Live is your virtual community. Join technology leaders in interactive panels as we take stock of the new reality, and plot our way forward together.
Each session will be followed by an interactive Office Hours on the Lead Dev Slack
workspace with our hosts and speakers.
April 3 - 4
Midwest PHP 2020 
- 
Free
Midwest PHP will be streamed virtually on Nomad PHP. To watch Midwest PHP you will need to convert your ticket into a Nomad PHP subscription or purchase a Nomad PHP subscription. This subscription not only provides you with access to the Everyday PHP, Security & Performance, and Enterprise tracks - but also to streams of select PHP conferences, monthly live talks and workshops, 200+ videos on demand, php[architect] magazine, certification, and more.
April 2
Red Hat - Remediating risk: How Graybar Electric and Greenway Health identify issues in their Linux environments 
- 
Free
Red Hat® Insights is an analytics-driven tool in Red Hat Enterprise Linux® subscriptions that can pinpoint risks no matter how complex and sprawling the environment. In this webinar, Red Hat Technical Account Manager, Morgan Peterman, will sit down with two senior Linux administrators, John Mills of Graybar Electric Company and John Lemay of Greenway Health.
April 2
Red Hat - Cisco and Red Hat: Driving Innovation Forward 
- 
Free
Red Hat and Cisco have long enjoyed an innovative partnership that allows us to stay competitive in a growing, changing market. Join us for a virtual event celebrating that partnership and exploring how we'll continue to drive innovation forward. The event will cover everything from the intelligent OS to app development and automation, with special content aimed at the service provider industry. Together, we will define our differentiation and maintain an edge up on the competition.
April 2
Red Hat - The evolution of automation in mid-market organizations 
- 
Free
IDC and Red Hat know that mid-sized companies all over the world are optimizing their IT infrastructure with a variety of strategic projects based on emerging technologies. One such technology is automation, a must-have for achieving digital transformation success and modernizing the enterprise IT.
April 1 - 30
#FiqueEmCasa / #Stay at home conference - Free
Totally free technology conference that will bring together the biggest names in technology to bring relevant content during this quarantine period! Let's all learn a lot about technology together and more than that, let's all go together against the proliferation of COVID-19.
April 1 - 3
Ng-conf: Hardwired - Paid
The greatest speakers from the Angular community will be live and ready to teach and share all of the latest and greatest Angular has to offer, including all the new tidbits in Angular v9. You won't want to miss this once-in-a-lifetime online event.
April 1
Red Hat - Open Demo: Openshift Container Platform, Built on Kubernetes - 
Free
Red Hat OpenShift is a container application platform that brings docker and Kubernetes to the enterprise. Regardless of your applications architecture, OpenShift lets you easily and quickly build, develop, and deploy in nearly any infrastructure, public or private.
2020 Event Recordings and Presentations Available
Events that took place prior to social distancing have shared their presentation recordings so you can watch them at home. The following links guide you to some of these libraries.
May 11 - 13
Global Scrum Gathering New York
March 19 - 22
FOSSASIA Summit
March 19 - 21
MidCamp 2020
March 17 - 18
EmberConf 2020
March 14 - 15
Libre Planet 2020
March 9 - 11 
DevOps Gathering 2020
(German) Find the materials  
March 5 - 8 
SCALE
February 1 - 2 
FOSDEM
January 13 - 16 
Linux Conference Australia
EduTECH Asia Live and On-demand webinars