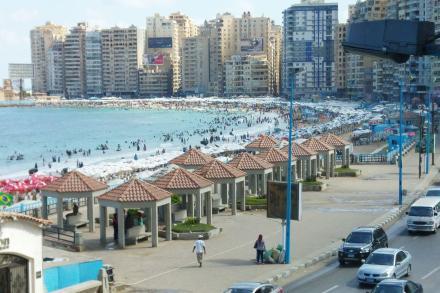 My introduction to the Cisco Networking Academy was … unconventional
May 26, 2021 - by Evan Leibovitch
The cabanas, deck chairs, and hotels that line Alexandria's coast carry a strong Miami Beach vibe, and I'd prefer its street Shawarmas over Cuban sandwiches any day. But my 2015 visit to the Egyptian city had nothing to do with sand or sun; it had become an unexpected home for two very separate communities of distress.
At the time, Egypt was filling with people fleeing separate civil wars in Syria and Sudan. Many had planned to be there temporarily until the violence stopped but came to realize that there was little to go home to. More headed here to the edge of the Mediterranean where the smuggler boats to Europe emerged, deadly and expensive, as the least awful option. As a result, Alexandria had become an urban refugee centre -- no camps, but thousands and thousands of people in need, invisible to the local authorities.
In this environment, I found myself, just a few blocks away from the beach in the dark offices of a charity providing support and sustenance to the refugees who found it. As part of a two-year contract with the United Nations refugee agency (UNHCR), I was charged with making the best of available resources to help provide the centre with Internet access. The primary use of the Internet was for people to contact family and plan their next moves. For those staying in the city a while, intentionally or not, perhaps we could provide enough IT training to help them get a job when emerging from their ordeal.
It was here that I first encountered Cisco Networking Academy.
Two representatives came some distance to meet with me and the charity's staff to offer their help by participating in the Networking Academy community. They brought with them a menu of career-targeted courses that people could take, free of charge, with the support of a local Cisco partner training centre. Quite prominent in that menu were courses targeted at Linux Professional Institute (LPI) certification. Given my involvement with the birth of LPI, it was exhilarating to see the organization's aims being spread this way around the world.
Those two years at UNHCR have shaped my approach since rejoining LPI. One of my personal objectives has been to redouble our work in support of Cisco Networking Academy, in pursuit of our mutual mission of promoting high-quality career-targeted education and credentialing everywhere.
Key to this partnership is the recently-strengthened relationship between LPI and Network Development Group (NDG), the organization that has created all of Networking Academy Linux-focused training. NDG president Rich Weeks and his team have gone above and beyond in working with us to ensure the high quality of this training delivered on the Networking Academy platform. Together we've worked to reduce barriers to careers in open source for their students, not only through free-or-inexpensive NDG courses but also through significant price reductions in LPI certification exams for those who take the courses.
Networking Academy partner institutions, numbering 11,800, are everywhere, and are currently helping forge the career paths of 2.3 million students. The need is everywhere, from refugee centres to college campuses, in rich countries as well as the less-rich. Even before COVID-19 disrupted everything, jobs were being lost to automation, outsourcing, and many other factors. As people look for their first career or their next one, open-source IT provides one of the more future-proof paths to a good livelihood.
The desire to be productive and employed knows no borders. It's been a source of pride within LPI that people in more than 180 countries and territories have turned to us to help shape their career paths and have become certified professionals. I'm looking forward to our expanding efforts with NDG and Cisco to further reduce barriers and offer such opportunity to anyone who wants it.
If you'd like to know more about learning Linux through the Cisco Networking Academy, please head to this web page to find out more. If you have your own story of how you've benefited from these programs, I'd love to hear from you! Write to me at eleibovitch@lpi.org or tweet me at @el56.