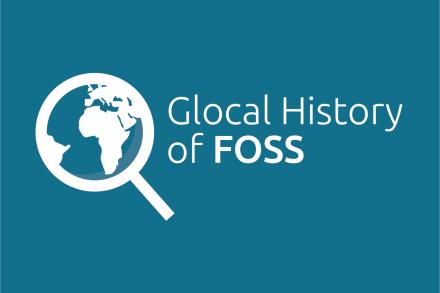 What the "Glocal history of FOSS" project is and what you can do for it
September 18, 2021 - by Max Roveri
As you know already the Italian Linux Society, fresh from Linux Professional Institute (LPI) Community Partnership, teamed up with LPI and the broader Brazilian FOSS community on the "Glocal history of FOSS" project.
Learn more, reading this post, about how you can interact with the project. And why doing that would end up in one of the nerdiest and coolest experiences of yours!
The story so far
This project is a spin-off from our collaboration with the 2021 Open Anniversary. It's a brilliant initiative, and we started playing around the idea of making a legacy of it: 
Why not try to set up a framework that is "glocal" because, with the help of the FOSS local communities we will be writing the global history of the FOSS movement as the outcome of the local history of its development in various international regions?
Roberto Guido, the president of ILS - The Italian Linux Society - an LPI Community Partner, immediately joined this thread, starting to work on a .json timeline format derived from the format adopted by Timeline.JS, a popular Javascript library to visualize interactive sequences of events. The choice has been to extend the existing format to include translations in different languages for the contents, as required by a project of global and multi-cultural involvement.
Meanwhile, Cesar Brod, LPI's Director of Community Engagement for Spanish and Portuguese speaking regions, started injecting in the framework Roberto created data from his own (long…) experience in the Brazilian FOSS landscape. Cesar was a Linux user before the kernel reached version 1.0 and since then he has been able to span several FOSS projects and entrepreneurial initiatives, mostly partnering with universities. He is working with Diolinux, an LPI Community Partner to organize the Brazilian community around the Country's timeline.
The "Glocal history of FOSS" project was initially born from a request from Nick Vidal, from the Open Anniversary team, who asked LPI to help with a timeline for the Linux project to be portrayed in their web portal. LPI joined Open Anniversary from the beginning and it was already contributing with content to the project, under the coordination of Kaitlin Edwards and the participation of LPI's Editorial Board. Cesar Brod started experimenting with an open-source JavaScript library and experimented with his own professional Linux timeline and both Max and he thought it was a very good place to start and get the broader FOSS community involved.
What's next?
With this very post, we are bringing the whole project a (huge) step further: according to the Torvaldsian principle: "release early and often" we are releasing the project and its framework into the FOSS community. "LPI will be pleased to host a project that belongs to the whole community and by exposing their local achievements we believe even more connections and new and exciting free knowledge-based projects will evolve", says Max Roveri, chief-editor of the project.
The Italian job
As this project has a few bits of Italian DNA, and as the Italian LinuxDay managed by the Italian Linux Society is at doors (Saturday, October 23rd), we decided to link GHOFOSS to the Italian celebration of Linux.
With the Italian LinuxDay we will be gathering information - "atoms" of Italian history of FOSS, until the LinuxDay. Data will be gathered via this form.
Those data will be used the day after for a hackathon in which the Italian Linux community (no worries: more will come for other geographical areas!) will work on the GHOFOSS mockup and backend.