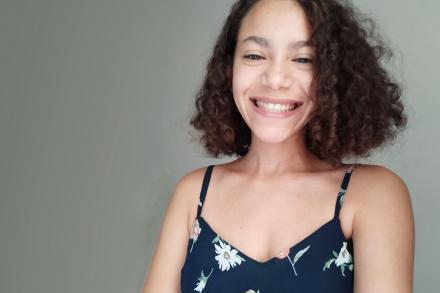 A Dedication to FOSS: Interview with LPI Volunteer Elayne Lemos
May 5, 2022 - by Andrew Oram
Elayne Lemos, a programmer employed at LPI partner Sysvale, is a "star volunteer" at LPI. According to LPI's Community Engagement Director for the Spanish and Portuguese Regions, Elayne is their best translator between English and Portuguese, as well as a helper at several events. Readers can witness her mastery of English, as well as her passion and talent for open source technologies, in the following interview.
How did you get involved with ICT and with LPI?
My first experiences with technology were in my teens when I was trying to understand more about computers, and at the same time the computers shared by the family suddenly and often stopped working. I discovered the open source world and Linux when I was 14 years old, and I discovered programming, even without an external incentive, when I was 16. I've always enjoyed testing things and seeing how systems work, and I've gravitated toward the terminal since the beginning.
My story with LPI is kinda funny. Since the beginning of my academic journey I have always made an effort to participate in events, and it was at one of these that I first heard Cesar Brod speaking. After a few years, we became contacts on LinkedIn and I continued to follow his work in the community. Thus I heard that he would come to participate in an event at Sysvale, a company that I already admired at the time, in early 2020, and I told him on the network that I wanted to buy a Tux to receive it at the event. I ended up getting a whole lot of swag and we talked a lot. That's when I discovered the possibility of volunteering at LPI and, as I had a prior and recent volunteer experience that demanded a lot in terms of communication in English, I managed to get approved to the Translators Team. After a while I also started helping Cesar in all kinds of events as a community staff person.
Is the ICT environment really friendly for women? Is there a need for improvement?
In my brief experience, I've had the privilege of experiencing a technology environment that is friendly not only to women, but also to other historically minority groups. At the same time, I cannot fail to point out the great gender disparity in the community. If we take, for example, the Stack Overflow Developer Survey 2021, out of 80,000 respondents worldwide, almost 92% identified as male. So empirically, I see that there is an effort by the leadership to give more opportunities and to make this environment more inviting, but the numbers indicate that there is still a long way to go towards representativeness, which means more women seeing themselves in technology careers as well.
You said you have long admired Sysvale (the first LPI Hiring Partner), and now work there. Why is Sysvale different?
I wanted to work at Sysvale for a few reasons. First, I saw an opportunity to work in a company that delivered a social value: we are a health tech company focused on primary care. Furthermore, I wanted to work here for the professional experience itself, because we offer space and opportunity to learn, innovate, and grow. After all, our goal is to take care of people. I can question and be critical for the good of the whole team. It is an extremely collaborative environment and maintaining close relationships with the technological and academic community, and with society. Also, I have the opportunity to work with open source technologies, as our entire stack is based on projects with this community touch.
Have LPI and Sysvale made a difference in your life?
Both LPI and Sysvale have made an incredible difference in my life, as a person and as a professional. Thanks to LPI, I was able to come closer to the community and contribute, so that communication was not a barrier between knowledge and the public in Brazil, especially those starting their careers in ICT. I was able to participate in events and learn a lot in the process. And at Sysvale I have the best possible work experience. I found out my passion for DevOps and the cloud, with an incredible team, and I also have support to pursue a career that makes me feel fulfilled every day.
Are ICT's events important?
Unarguably. Tech events are very unique structures that build bridges and teach people. From them, the diverse experiences of different companies and people intersect to keep evolving the industry, creating increasingly reliable products. In addition, the networking exercise is unique: you bring together people who are also there for the purpose of creating connections and opening communication channels.
What are your future dreams?
I've always believed that we can create something that can return as a good to society at large. And even though I still don't know exactly how, because I'm only a 24-year-old girl in my senior year at college, I want to contribute to the reduction of the social and economic inequalities that we experience above all in Latin America. Fortunately, the technology area has created many opportunities for social mobility and it would be really amazing if I could help with my work on DevOps, whether through mentoring, creating vacancies, or connecting people to them. Also, I have some personal goals, such as getting some certifications and mastering some technologies that I would like to try throughout my career. I can't wait!
What do nerds do when they are not nerding?
I like to run, spend time with my dogs, open a wine bottle, and watch a movie. I also love to read fiction, even though I don't have that much time for that lately. :'(