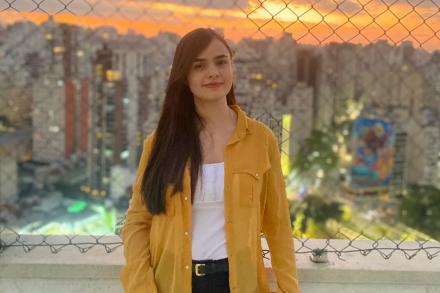 A growing career in cybersecurity: Isabela Fedrigo
May 11, 2023 - by Max Roveri
In this issue of the Share Your Voice series we meet Isabela Fedrigo, who recently took the Linux Essentials certificate. Isabela is at the beginning of her career in cybersecurity, but her story with GNU/Linux and with free and open source software (FOSS) is already a long one: We could almost trace it to her DNA!  
Ciao Isabela, and thank you for joining us in LPI's Share Your Voice series! Let's start from the beginning: How did you encounter Linux? How and why did that first contact lead to an already long, despite your young age, and pleasant relationship?
We could say that Linux runs in the family: It was there since I was a child; but it was in 2020, during the COVID pandemic, that I was able to delve deeper into Linux while I was studying to learn how to use virtual machines. 
What role did computers play for you when you were growing up? Did you have friends or people at school who used Linux or other advanced computer tools?
Computers have made a big difference for me because my mom worked with what I am working with nowadays, and when I was growing up, I just wanted to be like her. Growing older, at school, with my friends, we used to test our Linux knowledge by organizing contests with prizes: It was so funny! 
What do you think of your education in school from a professional and higher IT education perspective? Did it help you to prepare for what you are doing at work now?
It helped indeed to make me who I am today, professionally speaking. Yes, so many things that I do nowadays in my job, I learned at school. 
When did your interest in Linux and FOSS start to be serious and, possibly, a career path? And why?
I don't have a specific answer to this question because Linux, as I was saying, has been part of my life since I was a child. Digging deeper into it in the last few years made more clear for me FOSS's principles, and how Linux and FOSS can help you in releasing your full professional potential, being independent, and doing what you really want.
Would you say Linux changed your life? If so, how and when did that change start to happen?
Linux opened my mind to discover a world I didn't know existed. I saw the impact of the change during my first job interview, me 18 years and two months old. When I started talking with the person who is now my boss, I was so nervous; but when he started to ask me about Linux, I immediately relaxed and went back to being myself. I literally witnessed the change happening. And, yes: I nailed the interview!
What do you do in your current position? What are the primary tools you work with?
I work in cyber security (ethical hacker) and fraud prevention. I work with many tools, but Nmap is probably my favorite.
Do you have any special stories from the interactions with your colleagues, partners, and clients regarding Linux and FOSS?
Yes, I have indeed! Once I was downloading a bunch of Linux tools, while one of my colleagues wasn't aware of that. He went crazy because my work started to generate lots and lots of warnings. He alerted the whole team, but it was just me…  
Do you volunteer in Linux and FOSS events and projects? Any story about that?
I am not a volunteer in Linux and FOSS events, yet: so, thank you for the suggestion, I guess! 
Why did you decide to study for an LPI certificate?
It was pretty much straightforward for me. For me, LPI is a reference point, and I know how gratifying it is to be someone with an LPI certificate. Well, I am biased, I am a big fan…   
How did your career and LPI's certifications cross paths? Are any other certifications on the way? And what plans do you have for the future?
I am now studying for the LPIC-1 certification, while I still am amazed for having achieved the Linux Essentials certificate. I will definitely give LPIC-2 a try later. I know how important certifications are, and 
I believe every professional in the security area should have one. 
How did you prepare for the exam? Do you have advice for other people who want to tackle an LPI exam?
My advice? Take courses, study a lot, get a lot of\practice, and trust in your potential. Try to have people around who support you and don't worry about the exam: LPI is very keen on its candidates and the exam framework is welcoming. Focus, and all will go well: Remind yourself that you can do it. Specifically, I took a preparatory course and used the official LPI Learning Materials from the Learning Portal. 
Would you give us three reasons people should use Linux and three reasons an IT professional should get an LPI certification?
Three reasons to use Linux: Stability, Security and Freedom.
Three reasons an IT professional should have a Linux certification: to prove your competence, learn Linux in a didactic and objective way, and add value to your resume.
What do you expect from yourself in 1/3/5 years?
Within a year: I want to have attended courses for LPIC-1 and LPIC-2 and be on the way to take LPIC-3 Security. In three: I want to complete my bachelor's degree and start postgraduate studies. In five: I want to start a master's degree, and I want so much to contribute to open source software like Linux!
What do nerds do when they are not nerding?
They are looking for new nerdy things, aren't they? Kkkkkk just kidding…