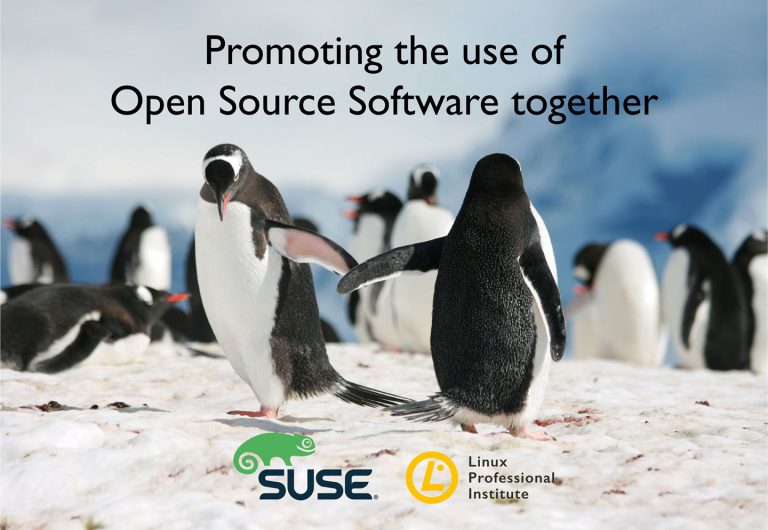 Linux Professional Institute (LPI) and SUSE have signed a Memorandum of Understanding to increase the use of Open Source Software and provide quality learning and certification tools to the academic sector worldwide. After working together for several months, we saw our mutual partnership as the path to one clear and important goal, to better promote open source education, a goal best achieved by combining our respective communities. To ensure the success of this collaboration:
LPI will:
Join the SUSE Academic Partner Program
Encourage its Approved Academic Partners, as appropriate, to also join the SUSE Academic Program
Promote the relationship through its social media channels and website
SUSE will:
Become an LPI Academic Partner
Publicize the relationship to its SUSE Academic Partners and encourage them, when applicable, to also join the LPI Academic Program
Encourage its Academic Partners seek LPI as a place to get certifications 
G. Matthew Rice, Executive Director of the Linux Professional Institute, sees the two partners as sharing a common vision.
"SUSE and LPI firmly believe that more and earlier introductions to open source technologies complemented by professional level education is essential to continued open source adoption.  Our partnership with SUSE's academic program will help make this education more accessible to everyone."
Brendan Bulmer, Academic Program Manager for SUSE, spoke of SUSE's open source education goals for the year. 
"SUSE in 2020 is working harder than ever to enable our academic partners and ultimately reach the next generation of professionals in students. Our collaboration will address the IT skills gap and help qualify more students entering the workforce in the coming years. In the future, this partnership will lead to a more constructive cooperation to include collaboration between the various certification offerings and engagement of each other's commercial training partners." 
About LPI:  Linux Professional Institute (LPI) is a non-profit organization founded in Canada on October 25, 1999 and oriented towards certifications for Linux, BSD and Open Source Software based technologies. With more than 175,000 certification holders, it's the world's first and largest vendor-neutral Linux and open source certification body. LPI has certified professionals in over 180 countries, diverse exams in multiple languages, and has hundreds of training partners. 
About SUSE Academic Program: Sharing in the "Open Open" mentality, the SUSE Academic Program is at no-cost and completely open to all academic institutions globally. We encourage all members of academic institutions to register at www.suse.com/academic.