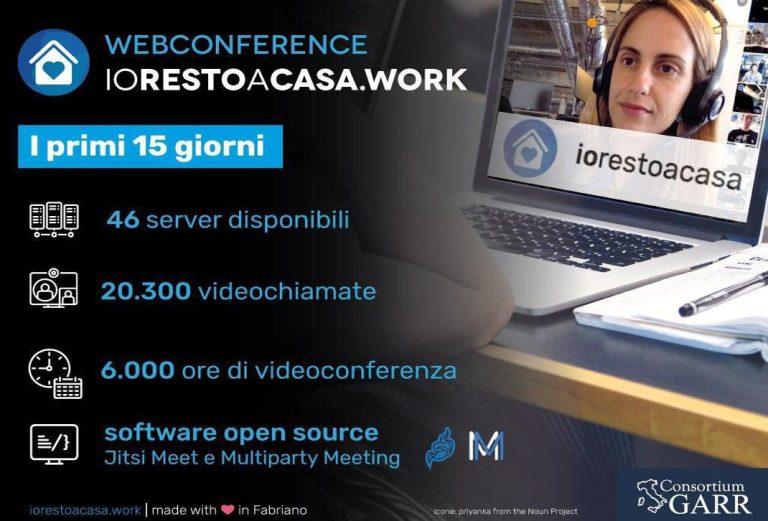 Italy was one of the first countries to impose strict lockdown measures as the COVID-19 virus started to devastate the northern part of the country. Many people there were unused to working or learning from home, and needed a simple, free tool for videoconferencing. A free software solution was quickly developed by a team of developers from the Italian city of Fabriano, building on existing open-source components such as Jitsi Meet. Consortium GARR, the Italian research and education network, contributed its high-speed network for educational purposes.
The service is called IoRestoACasa.work (in English, IsStayAtHome.work), and claims to be for "studying, working, and socializing." People can join a videoconference simply by clicking a link in a web browser, either on a personal computer or on a phone running Android  or iOS. Up to 50 people can join a single meeting.
The project was first based on Jitsi Meet, an Open Source system itself based on the WebRTC standard. After the IoRestoACasa.work team opened up the project for contributions, as described later by one of its developers, GARR quickly came on the project and added eduMeet as another video call solution. The eduMEET platform is another multi-videoconferencing system, developed with the European network GÉANT and based on the MultyParty-Meeting Open Source system. In addition, GARR offered its nationwide high-speed OpenMeet network for use by students. [AO: I'm making some guesses here.]
Luca Ferroni, a member of beFair, is among the team of professionals who developed the application. He writes,
IoRestoACasa.work is born from the activity of the beFair network of IT professionals located in Fabriano and involved in IT FLOSS solutions for about a decade. During the lockdown we worked hard to make people feel closer: we knew that with the help of Free Software solutions we could do it using Italian servers. We packaged and deployed a video call platform to allow schools, companies, families and friends to study, work and socialize.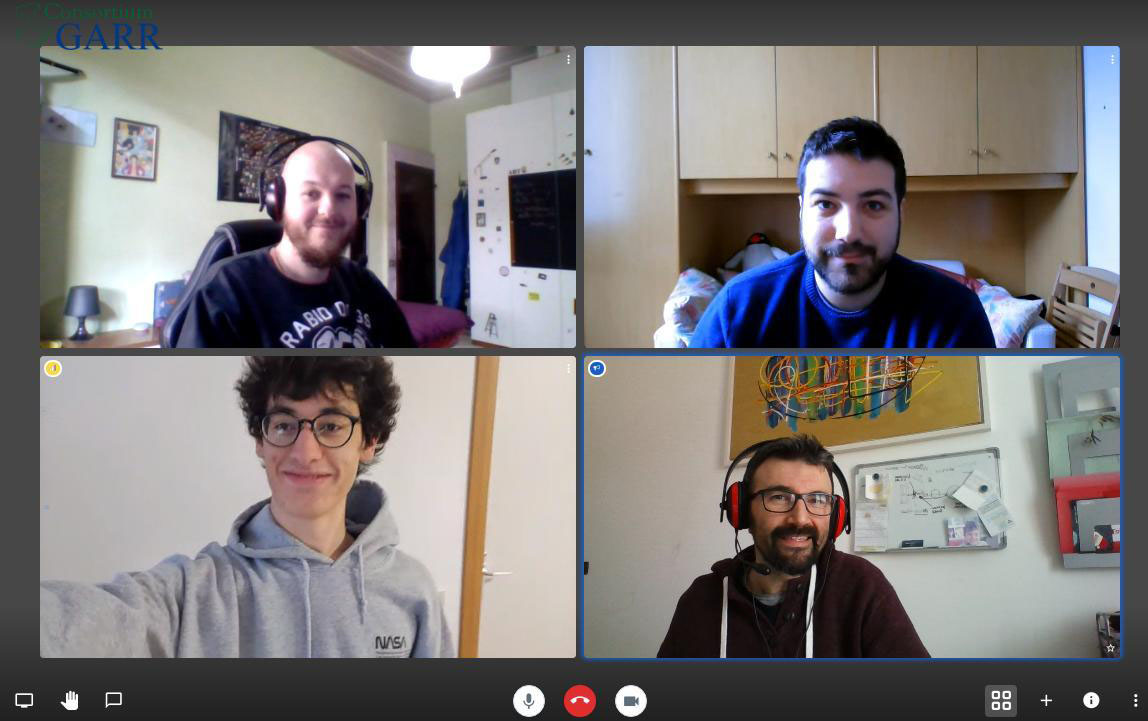 We started with Jitsi Meet, already available thanks to the company 8×8. We created our conferencing system as a set of Docker images along with a monitoring system. We  then asked a number of Internet providers, data centers, and universities in Italy to sustain the project with their resources and skills. Many of them responded and IoRestoACasa.work was born!
We are proud to have started it all. The project gathered a community of 200 Italian technicians and proved the effectiveness of the free software approach. The project demonstrates how infrastructure and service providers can collaborate to provide different levels of services, enhancing each other by exchanging ideas and skills.
The project was based on a collaborative approach where multiple organisations could participate by sharing their own servers. As Luca said, GARR was among the first organisations to enthusiastically join the initiative by making available its own service, OpenMeet. Thanks to this act of digital solidarity, a larger number of people were able to benefit from this platform.
 
"GARR already provides video conferencing services to the research and education community", says Massimo Carboni, GARR CTO. "By joining this project we intended to expand the audience of users, focusing in particular on schools that currently have fewer resources. In this way we aimed to offer an easy-to-use solution with a domestic Internet connection."
 
Members of GARR community who contributed servers include the Italian National Research Council (CNR) and the Institute of Methodologies for Environmental Analysis (IMAA).
 
"On a daily basis, this platform hosts more than 150 simultaneous conferences with about 1000 users. Just on GARR resources, there are about 30 video-conferences with more than 250 simultaneous users," Massimo Carboni continues, "I think that what made this project a reality was its collaborative approach: the idea that problems can be solved with an open technology and with a group of developers who are willing to share their knowledge and resources for a common goal. This approach is also part of GARR's mission: to provide technological innovation and create a community of users who also play an active role in the development of services for the benefit of the whole research and education community. For GARR, Open Source is a necessity, because it develops problem solving skills and because, thanks to its community of developers, it guarantees high software quality. The Open Source approach is also an extraordinary means for continuous skill development, something that is necessary to tackle new challenges in the technological sector."
GARR was working and experimenting with video conferencing solutions long before the emergency, with the aim of enriching the proposals for its user community. An international collaboration with GÉANT for the eduMEET project also goes in this direction.