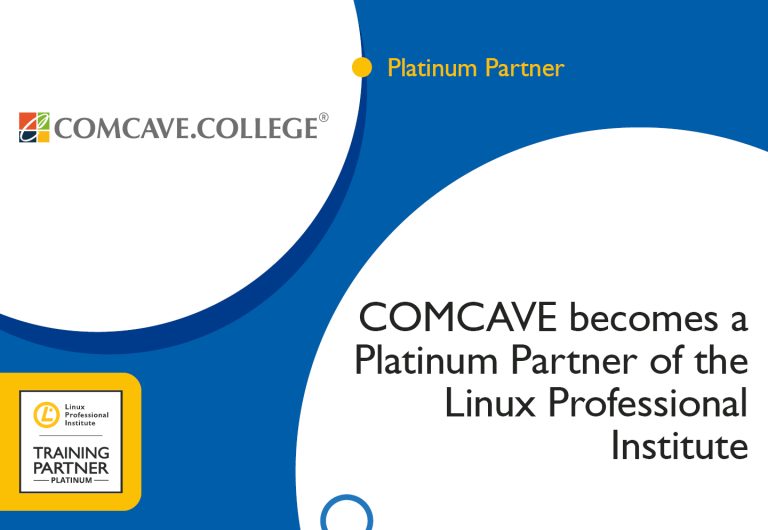 With more than 350 locations and over 500 employees, COMCAVE is one of the leading providers of subsidized continuing education, retraining for laid-off workers, and professional seminars in Germany. The Linux Professional Institute (LPI) is proud and happy to now welcome COMCAVE as a Platinum Training Partner. 
"Transforming learning. Shaping lives." Four words in which COMCAVE describes its mission. The education provider, subsidized by the state and recipient of multiple awards, has been dedicated to adult education for more than 20 years with a great deal of passion, competence, and commitment. In doing so, COMCAVE focuses on the individual and helps its training participants successfully shape their professional future.
Learning with COMCAVE is accessible online or on campus, and instructor-led classes are offered part-time and full-time. The courses are 100 percent free of charge with an education voucher, and for selected courses COMCAVE even guarantees a job afterwards. "Thanks to our cooperation with Amadeus FiRe, we give a one hundred percent guarantee of a job, as an IT specialist for system integration, to graduates of our advanced training in network technology who successfully achieve LPIC Level 2 or Level 3 certification," explains Thomas Mücke, responsible for product development at COMCAVE.
Mücke very much welcomes the partnership that has now been established with LPI: "COMCAVE has been offering advanced training courses in the field of Linux for many years. We are pleased to now be an official part of the LPI community and to be able to pass on the resulting benefits to our customers."
"COMCAVE is an important pillar of adult education in Germany and a valuable partner for the Linux Professional Institute," said Reiner Brandt, managing director of Open Source Certification GmbH, which initiated the partnership. "For adult education in the Linux and open source sector, this partnership is an important milestone."
"We are very pleased to partner with this highly recognized and innovative education provider. COMCAVE is setting standards in many areas of adult education in Germany, just as LPI does worldwide with its distribution-neutral certifications," emphasized Rafael Peregrino da Silva, Director of Partnerships at the Linux Professional Institute. Together, COMCAVE and LPI will continue to promote further training opportunities in the Linux and open source sector in Germany.