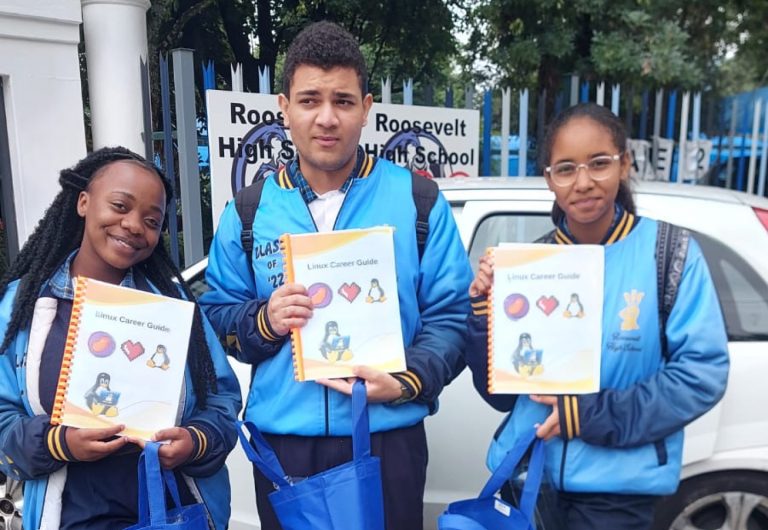 Jumping Bean, a computer consulting firm located in a suburb of Johannesburg, South Africa, received an unusual phone call in late 2022. Parents of students at a local high school, consisting predominantly of previously disadvantaged students, asked the organization to run an educational day.
Jumping Bean took up this unusual opportunity and decided to focus on open source software as an enabler for under-represented demographics entering the computer field. Staff offered short lectures on open source, highlighting the value of certifications granted by Linux Professional Institute (LPI), with which Jumping Bean is a partner. The staff also ran some games and handed out Linux Career Guides.
Mark Clarke, whose job title at Jumping Bean is Technology Sensei, said that the event drew 50 students headed toward graduation ("matric") and their parents, along with a few teachers who could find time to get away from their seasonal work on final exams.
The Importance of Offering a Career Path
Clarke laid out difficult conditions for education in South Africa. Funding is uncertain, and the general quality of secondary education is declining. Universities are out of reach for many qualified students, and youth unemployment has been rising at an alarming rate. As an example of the infrastructure problems South Africans face, Clarke warned me that his electrical power might be turned off soon.
Jumping Bean offers a range of courses on a wide range of computing topics, aimed at college students aiming at professional careers as well as professionals in computing or other fields who want to improve their skills. Courses are offered both at their Ferndale site and online.
Jumping Bean values its partnership with LPI because their certifications have international recognition. At the high school student event, staff explained the reasons for getting certified. They explained what careers are like in web programming and computer security, both of which now have certs from LPI.
The staff also opened students up to a broader understanding of computing infrastructure and open source: for instance, that Linux runs most of the computers in cloud services such as AWS. The staff also discussed the online games loved by students, describing the networks and data centers that supported these games and the role of open source software.
Opportunities for Reaching Out to Youth
It appears, from Clarke's description, that the career day they ran had an even deeper influence on the presenters than on the students. Jumping Bean, which has focused on professional development, is interested in reaching out to beginners with less background and fewer resources. They'd like to do something to address youth unemployment.
Discussions at Jumping Bean have started with plans for more such events. They may create a code camp, both in-person and online. Other ideas include study programs with online meetings. Their marketing department plans to contact the high school to discuss follow-up activities.
Eventually, Jumping Bean would like to offer programs to the kinds of high school students who attended the December event. But because few students can afford this kind of professional training, such a program would depend either on government funding—which is unlikely to be forthcoming—or private grants.
The success of this recent student event, and its impact on the hosts, show the great social value–and eventually, the business value–of holding community events and looking behind the horizon of one's current business model. Congratulations to Jumping Bean for rising to meet the request of local citizens.