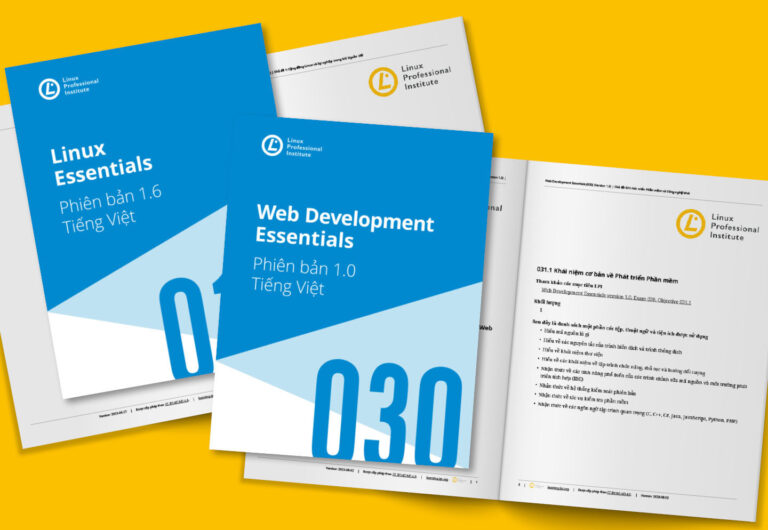 Toronto, 09-27-2023 – Linux Professional Institute (LPI), a global leader in providing education and certification about free and open source software, is proud to announce the release of Vietnamese translations of the free Learning Materials for Linux Essentials and Web Development Essentials. These Learning Materials are designed to cover major topics in the use and administration of free and open source software, aligning closely with the objectives of LPI exams.
The "Essentials" track serves as an entry point for students and teachers into the most important areas of Information Technology. By translating its freely available Learning Materials, LPI consistently follows its claim to make it as possible to gain access to this knowledge as well as to the exams themselves.
With the release of the Vietnamese translations, the Learning Materials for "Linux Essentials" are now available in 14 languages, and the Learning Materials for "Web Development Essentials" in 11 languages.
Linux Essentials introduces the world of that free, open source operating system and covers important basics of system administration with Linux, such as access rights to files and examining system resources.
Web Development Essentials start with basic HTML and CSS, the languages for laying out web pages. The Learning Materials then introduce JavaScript and advance to programming topics for both the front end (code running in the browser) and back end (code handling requests on the server). Anyone who masters the topics of these Learning Materials is ready to create a basic functioning website site – and of course take the exam.
"We are pleased to release these LPI Learning Materials for Vietnamese. We hope that this will give students and teachers in Vietnam a good entry point into important areas of IT. Translations of further materials into Vietnamese are in preparation, as are the exams themselves," says Kenji Ito, LPI Director of Communications in Japan.
Dr. Markus Wirtz, Senior Product Manager at LPI, added, "After Japanese, Vietnamese is the second Asian language in which we offer our Learning Materials. We would like to reflect the importance of this region with further translations soon."
For more information about Linux Professional Institute and its Learning Materials, please visit https://learning.lpi.org
About Linux Professional Institute (LPI):
Linux Professional Institute (LPI) is the global certification standard and career support organization for open source professionals. With more than 200,000 certification holders, it's the world's first and largest vendor-neutral Linux and open source certification body. LPI has certified professionals in over 180 countries, delivers exams in multiple languages, and has hundreds of training partners. Learn more at https://lpi.org
Media Contact:
Björn Schönewald
Communications
Linux Professional Institute
bschonewald@lpi.org