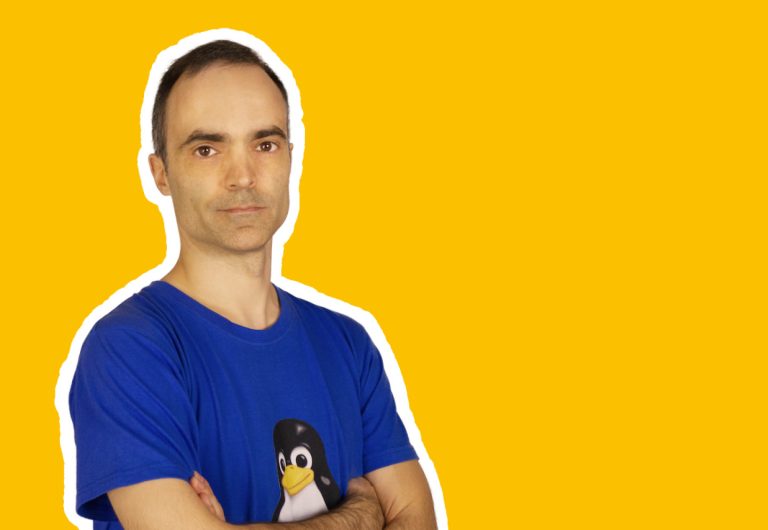 Linux Professional Institute signed up Antonio Sánchez Corbalán as an Authorized Training Partner in 2020. He has become extraordinarily popular by offering LPIC 1 training online (as well as Linux Essentials training), sometimes cost-free. Antonio has recently risen from the Silver to the Platinum ATP level.
In this article, he describes his computer training and how he discovered LPI.
I have always been a computer enthusiast. My first computer was an IBM 286 with MS-DOS, where you could do little more than play elementary games on 1.4 MB floppy disks and write texts in the then-popular WordPerfect word processor. I remember the arrival of my first sound card, my first mouse, and above all the first modem able to connect to the "internet."
My first approach to Linux was at the University of Murcia, where I studied computer engineering. When I finished those studies, I took an advanced course on Linux servers at a private academy, strengthening my knowledge in Red Hat, Debian, and SUSE.
Although the labor market demanded many computer professionals, I let myself be carried away by my vocation and took the official exam to become a teacher of vocational training in Spain, achieving my official position as a state official in 2004. This position has allowed me to grow in my two favorite fields: teaching and free software. Parallel to my work as a teacher, I have worked as a Linux system administrator for 20 years in my own companies and projects.
In 2019, I got the institute where I am a classroom teacher to sign an Approved Academic Partner agreement with LPI, which allowed me to learn more about the operation of this organization and its certifications. By that time, the internet had evolved enough to allow me to teach online courses, so I decided to take that step in order to reach more people.
My experience teaching Linux for so many years has taught me where beginners have the most difficulty. So I decided to create a free course for newbies to understand everything they need to get started, especially with the command interpreter. This introductory course has been very well received. It consists of more than 40 videos and 6.5 hours of training.
But students who want to get LPI certification need more help and support. That's why I decided to create paid courses for Linux Essentials and LPIC-1. This way I can dedicate the necessary time to guarantee success in the exam.
In 2020 I became even more involved with LPI, starting as an Approved Training Partner serving and offering LPIC-1 courses to everyone through various online learning platforms. All courses were very well received, and in 2021 I launched the Linux Essentials certification course. As of today, I have almost 100,000 students enrolled in one of my courses that teach Linux, something I am proud of both professionally and personally. That's why I'm currently dedicated to creating more courses, to continue helping everyone who wants to have affordable access to good training in Linux and open source technologies.
I am currently studying for LPIC-2 and creating a course that will help my students train for this certification. When LPIC-2 is ready, I plan to continue creating courses for more LPI certs: Web Development Essentials and DevOps Tools Engineer.