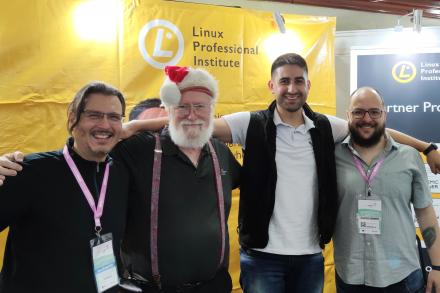 Latinoware 2022: It was great to be back
November 25, 2022 - by LPI Editorial Team
Latinoware has been one of the major Brazilian computer conferences for the past eighteen years, with a wide-ranging program combining straightforward technical topics (AI, DevOps, etc.) with the social and economic aspects of computing (smart cities, women in tech, etc.) This year, Latinoware drew thousands of attendees from many countries as well as almost every Brazilian state.
Even during the "dark days" of COVID people participated in Latinoware by doing virtual presentations, but the ability to talk with individuals and being able to show the genuine appreciation for the things that people were doing for Free Software in person was much appreciated. maddog was so anxious to attend that he flew to Latinoware five days after having cataract surgery on his right eye.
The 2022 Latinoware took place in a hotel in the city of Foz do Iguaçu instead of the grounds of Itaipu as it had before. President Lula had just been elected again by a narrow margin, and outside of that hotel a lot of people who still did not agree with the results of the elections were protesting.
Latinoware was a huge success, albeit a smaller event compared to the previous editions. The exhibition area was very crowded and the LPI booth was always full of people who poured in to know about our certifications and projects, scan our QR-Code for discounted coupons, and learn about the Caninos Loucos project, who co-hosted our booth.
maddog, as chairman of the LPI board was present at the event and delivered a keynote talk: Teaching People How to Fish. If you click on this Youtube Video you will notice two things: 
Cesar Brod, Community Engagement Director - Spanish and Portuguese Regions is doing an alternating translation, because the event this year could not afford the costs of a simultaneous translation at the event.
The background features a mocked-up version of the Last Supper, made for the first edition of Latinoware (Cesar is pretty sure it was done under the request of Fabiana Iglesias, at Infomedia TV at the time). Followers of free and open source software in Brazil might be able to recognize some people). The photo following this paragraph may be a little more clear.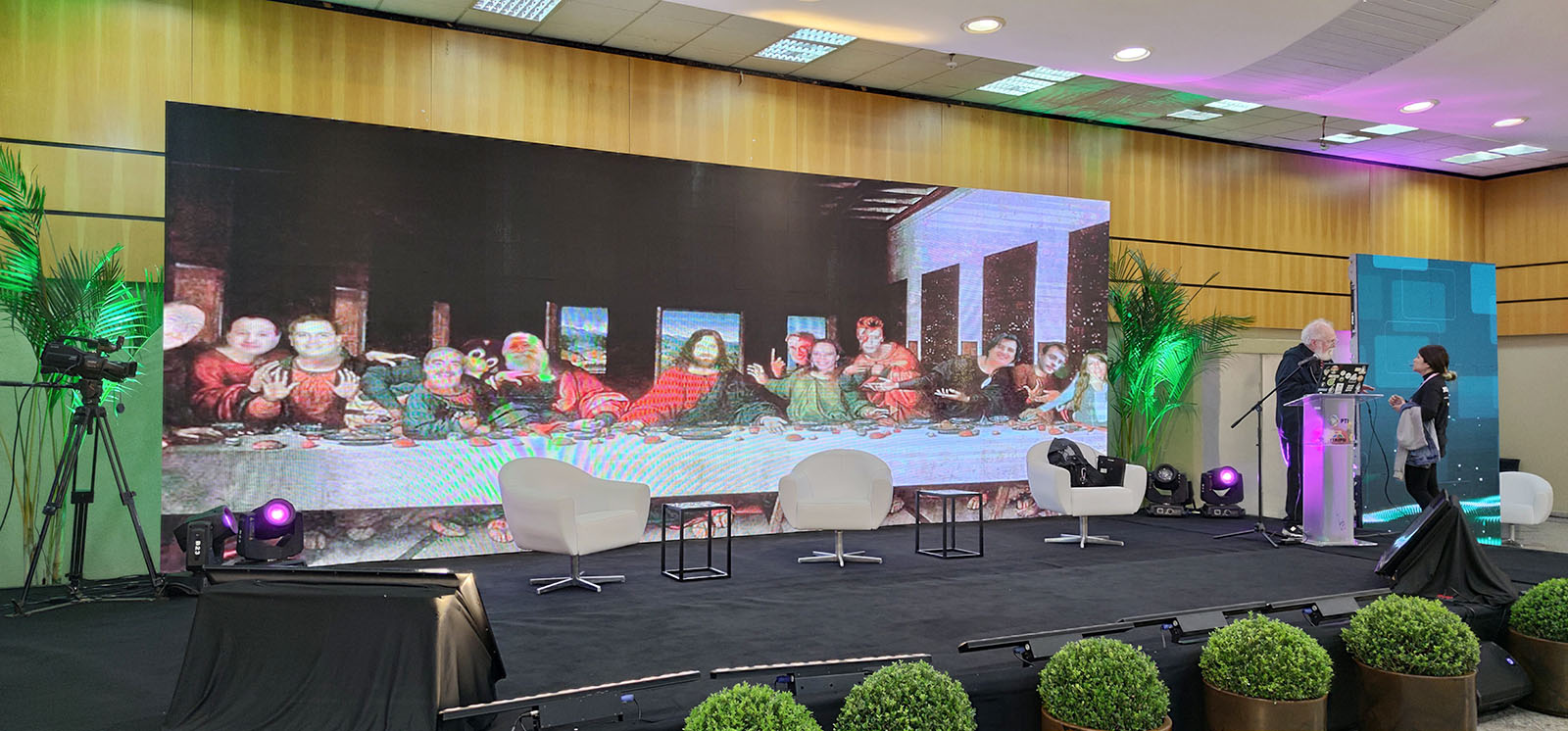 After giving his keynote, maddog moved to the LPI booth where, in Santa's gear, he announced he had a gift of free software for the whole world!
One highlight of this year's Latinoware is the number of young people present and the rich array of free technology being displayed for them, such as robots, IoT kits, and books on free technology. Cesar bought for his granddaughter a kit consisting of a book and several experiments where kids can help Camila, the Capibara, solve a lot of problems created by Jack, the Crocodile.
Many of these young people attending were university and high school students just beginning to learn about computer science and computer engineering.   Some of the attendees had known and been working with Free and Open Source Software a long time, but some were learning about it for the first time at Latinoware.
Unfortunately, due to protests causing road blockages and flights being canceled and delayed, Cesar had to leave Latinoware and miss its last day. Juan Ibarra, Partner Success Manager Lead at LPI, and maddog stayed there, representing LPI and having loads of fun.
Besides the many talks given at the conference, they had a floor of booths, many of which were projects such as Debian and KDE, not just commercial firms trying to sell something. There is nothing wrong with "sales", but Latinoware is so much more, and the students could learn much about software by talking to the project people in the booths.
Another nice thing about Latinoware is that typically the speakers did not just appear long enough to give their talks, then disappear. They stayed around to talk to the attendees.
During the last day some people from Carrera Linux of Argentina (CLA) arrived to help solidify an agreement to work with Itex (the Industrial arm of the Caninos Loucos Project) to help spread hardware creation throughout Argentina and other Spanish-speaking countries in Latin America.   CLA will also be helping other companies develop application specific I/O boards for hardware developed by Caninos Loucos and providing support for applications using FOSS.
In addition to meeting companies from Brazil and Argentina interested in the use of Free Software and Open Hardware we additionally met some companies from Paraguay.
Augusto Machado from Caninos Loucos and maddog also traveled with Dr. Miguel Matrakas of PTI to the offices of PTI to see how Caninos Loucos, LPI and PTI could work together on several projects and also to see the tree which was planted maddog's honor on the grounds of the Visitor's Center of Itaipu in 2012. It has gotten quite big!
Latinoware is alive and kicking, even in the face of the problems it has encountered in past years, thanks to a very special group of people. LPI is not able to name all of them, but we wish to thank them all by expressing our gratitude to Marcos Siríaco Martins. Marcos, in our opinion, exemplifies Latinoware. Free software is mostly about people, and Marcos is the glue connecting all of those who are in love with this important event. His strength is an example for all of us who believe information freedom will always prevail.
maddog looks forward to attending Latinoware next year, and hopes to work with the planning committee to have some good workshops in programming and using Caninos Loucos computers.