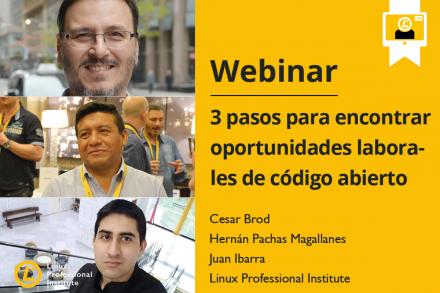 3 Steps to Find Open Source Job Opportunities
January 21, 2021
Missed the webinar? Watch the recording
Join Linux Professional Institute (LPI) virtually on January 21, 2021 from 9:00 AM - 11:00 AM (UTC-5) for a deep dive into how LPI is able to guide you into finding your open source opportunity. This webinar will be held in Spanish. 
If you want to expand your employability opportunities and know how to approach your new job, this webinar is for you. The route to your new job awaits you and we will guide you through the process. Join us and ask your questions. Be part of the LPI community.
During the webinar, we will guide you through the process from start to finish. Here are the 3 steps that we will encourage you to follow; 
Step 1: Go through the proper training
Step 2: Become LPI certified
Step 3: Register to become part of the LPI Community
Come prepared with questions! We will also be streaming over Facebook and YouTube.
Register Now. This webinar will be recorded and shared on the LPI YouTube channel.