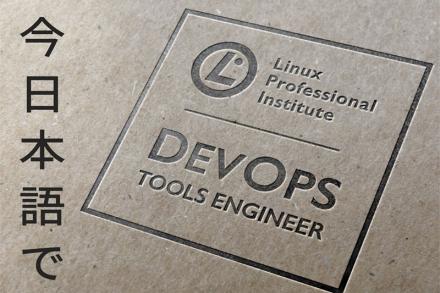 July 16, 2019
Linux Professional Institute Releases DevOps Tools Certification in Japanese
Linux Professional Institute DevOps Tools Engineer Certification is Available in Japanese Language.
Linux Professional Institute launched its latest certification, DevOps Tools Engineer, in October 2017, and until now, exams were available in English language only. Starting July 16, exams will be globally available in Japanese language. 
G. Matthew Rice, the Executive Director of LPI says that "as part of our continued investment in the Japanese Open Source market, we're pleased to release a native Japanese version of the Linux Professional Institute DevOps Tools Engineer certification.  The knowledge that is demonstrated through obtaining this credential covers technology skills that are needed in many modern IT departments."
"The DevOps mindset, along with a set of specific tools, is about to revolutionize the way how modern applications are deployed. Knowledge about these tools is essential for keeping up with technological standards and best practices. Based on intense community and market research, the DevOps Tools Engineer certification is the ideal way to gain proficiency in the most relevant open source implementations of these tools," says Fabian Thorns, Director of Certification Development.
With its mission to promote the use of open source by elevating the people who work with it, LPI has addressed the growing importance of DevOps competencies in the IT industry and with this certification, has helped professionals such as developers, system administrators, and engineers, verify their skills. This certification has also contributed to closing the gap in the global certification landscape and with it, LPI has added the first certification to its Open Technology certification program. 
"DevOps is one of the popular career choices in Japan, and I am pleased to be able to contribute to the development of Japanese IT, and increasing the number of certified DevOps engineers, by providing Japanese language exams. We also provide a route from infrastructure engineers to development engineers, and we believe that it will be accepted as a new challenge from existing certified people and development engineers," says Kenji Ito, Director of Communication Japan.
The Linux Professional Institute DevOps Tools Engineer enables administrators and developers to test and confirm their knowledge in automation, continuous delivery, and deploying and configuring Linux systems. Certification is tailored for professionals who are technically involved in the development or delivery of software.  
There is no prerequisite certification for taking the DevOps Tools Engineer exam, however, it is strongly recommended that a candidate already has a strong background and/or certification in system administration or software development. Certification requires passing a single exam, currently priced 15000 JPY.
More information on LPI's DevOps exam and the learning objectives can be found here.
About the Linux Professional Institute (LPI)
LPI is the global organization for certification standards and career support for open source professionals. With more than 650,000 exams delivered, it is the world's first and largest Linux and open source certification authority. LPI has certified professionals in more than 180 countries, delivering exams in multiple languages ​​and is working with hundreds of training partners.
Contact person:
Kenji Ito
Director for Communications
Linux Professional Institute Japan
2-9-4 Meijiyasudaseimei Akihabara Syouwa St. Bad. 10F
Taito, Taito-ku, Tokyo, 110-0016, Japan
03-5826-8491
info-ja@lpi.org