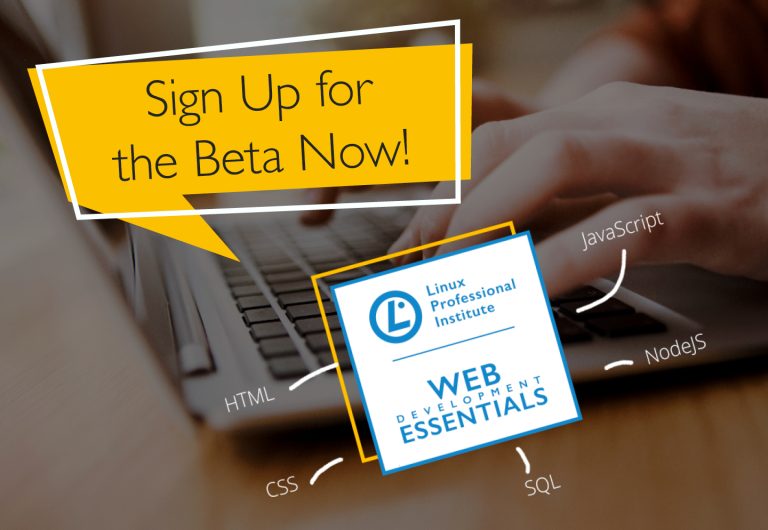 Linux Professional Institute (LPI) is entering the last phase of the development of the new Web Development Essentials program. This phase includes public beta exams to which we invite selected candidates as well as the release of Learning Materials for exam preparation.
Web Development Essentials is a preliminary certificate program that belongs to LPI's Essentials certificate track. The Web Development Essentials program is mainly targeted at students who attended an introductory course in software development focused on web technologies. The exam covers HTML, CSS, basic JavaScript and NodeJS. The complete exam objectives are available on the LPI wiki.
The beta exams will be delivered between February 14 and March 13, 2022. Interested candidates will find more information about the beta exams as well as the sign-up form at the LPI website.
"We would like to invite anyone with a background in web development to review our exam objectives and sign up for the beta exam if they feel they have a fair chance to pass the exam", says Fabian Thorns, Director of Product Development of LPI. "Beta exams are the final step in our exam development process and ensure that the exams are valid and fair to the candidates. They also allow the candidates helping in this step of exam development to be the first candidates ever taking the exam and get the certificate", Thorns continued.
Along with the beta exam sign-up, LPI also released the Web Development Essentials Learning Materials in English. They are available on learning.lpi.org.
"For the first time, we have made Learning Materials available before the official release of the exam itself. This not only allows candidates to have a solid preparation, but also helps us solicit feedback on the Learning Materials in this last release phase", says Dr. Markus Wirtz, Senior Product Manager at LPI.
The final version of the exam, as well as translations of the Learning Materials into other languages, will be released a few weeks after the beta exam period ends.