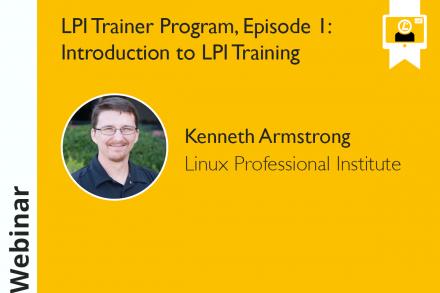 LPI Trainer Program Train the Trainer Introduction: Webinar
April 11, 2023 - 10:00AM EDT
Download the slides (coming soon)
Download the script (coming soon)
Missed the webinar? Watch the recording (coming next)
Join Linux Professional Institute (LPI) members and community on April 11, 2023 from 10:00AM EST - 11:00AM EDT for the first episode of the Train the Trainer Webinar Series.
Submit any questions about LPI's certification training that you are looking to get answered to webinars@lpi.org by April 4. We will prepare to answer your questions during the webinar.
Tune into this webinar to learn more about:
LPI's history and structure
LPI's certificates, certifications, exams
LPI's Membership and how Members can join the Approved Trainer program.
When is this webinar being hosted in your time zone?
Tokyo 11:00 pm
Amsterdam, Berlin, Rome, Stockholm, Vienna 4:00 PM
Sao Paulo 11:00 AM