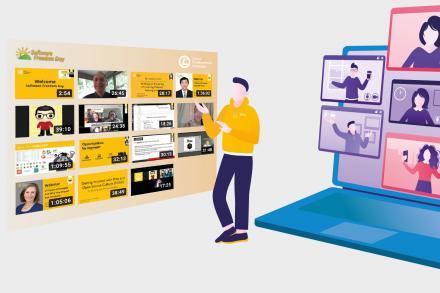 SFD 2021: An 11-hour community gathering
October 26, 2021 - by Evan Leibovitch
To be honest, we didn't know what to expect.
In retrospect, the year 2020 may have been a very odd year for Linux Professional Institute (LPI) to get initially involved with international Software Freedom Day (SFD). After all, this has typically been a day when Linux user groups, open source advocates, schools and others celebrate the day with local events. Some do open houses, some stage "Installfests" (bring your computer and people will help you load Linux on it or help with support), others do training or just informal ask-me-anything (AMA) gatherings.
Missed our activities for Software Freedom Day? Check out the recordings!
Indeed, it has always struck me that the open source world has taken the 70s phrase, "Think Global, Act Local" very seriously to heart. LPI couldn't be what it is without staff, friends, partners and exam takers in almost every country and territory. I still recall LPI being part of the World Summit on the Information Society conference in 2003, promoting open source with a diverse contingent from a dozen countries. We gave out thousands of Linux CDs and even ran an exam lab. But we also had the Geneva Linux Users Group there to provide guidance to local diplomats (and keep the bar fridge well stocked).
We were hoping for a similar global/local vibe for SFD 2021, but the virus had other ideas. I, and most of you, haven't been to another country or even a local event since early 2020.
When we first contacted the Digital Freedom Foundation, creators of SFD, in late 2020 we were hopeful that there might be a return of in-person events in 2021, but it was not to be. To be sure, we committed that LPI was going to be a major participant one way or the other. However, the year has been filled with lockdowns, ever-changing advice on masks, vaccinations and mobility. As it turns out the world wasn't ready – YET! – for a return to safe, face-to-face gatherings on September 18, the date of this year's event.
Given what had confronted us, LPI stepped up to the challenge. Helmed by our über-composed events manager Kaitlin Edwards, we assembled a team to determine what could be done. Talking to LPI partners, user groups and others in our community, it became clear that in-person events were off-limits this year. So we did the next-best thing: we spoke to some of the expertise and advocates in our Linux and open source communities, and we staged a global, virtual, SFD open-house.
The result, thanks to the team's tireless efforts, was an 11-hour marathon of talks, demonstrations, panel discussions and even some AMA time, co-hosted by Kaitlin and me. We had good attendance throughout, and because of the sheer duration of the program had something to offer in every timezone. Best of all, we were about to keep the program diverse, with participants in 14 different countries and multiple languages. And six of the presenters were women.
While it was quite the task in keeping all this working smoothly, I also had the opportunity to take in the sessions myself. We were able to bring in something at all levels, from beginner to expert, covering not only technical but also legal and social issues surrounding open source. And it wasn't even all about Linux, thanks to Deb Goodkin's presentation on BSD.
Of course there was something missing, given the inability to shake hands or make eye contact with the audience. The world is slowly opening up again, and LPI is already planning to attend some of the in-person open source conferences scheduled for later this year. Our commitment to SFD is serious and multi-year, and we now have a year of lessons to learn from. I'm looking forward to building on this beginning, to really live the global/local character of open source, and to seeing you join us September 17, Software Freedom Day 2022!