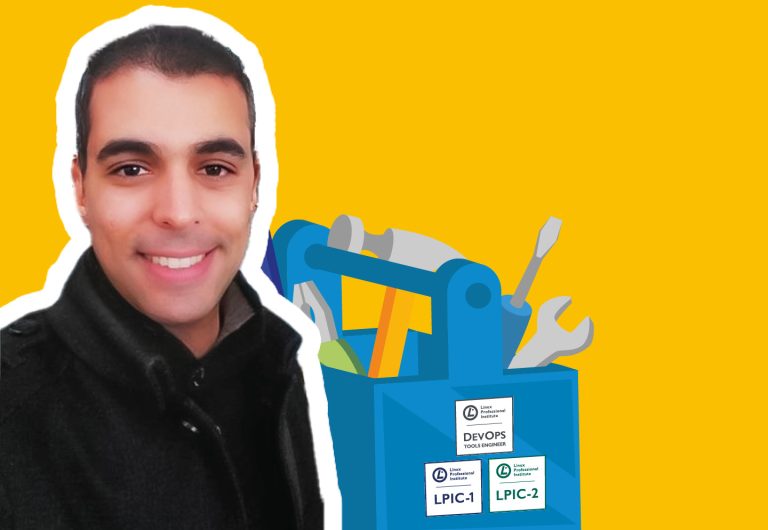 I am Ghassen Aouinti, an IT engineer who spent many years managing my information system with traditional tools and then using software with monolithic architectures, sometimes quite complicated to implement. 
Then, one day, LPI Maghreb launched a partnership with my employer, the Tunisian Ministry of Defense, to train and certify its engineers.
I didn't hesitate for a moment to go for my first LPIC-1 certification, which I obtained with an excellent score. In the following years, I was eager to discover the exciting world of Linux system administration, and I achieved my second level of  LPI's professional certification, LPIC-2.
With LPIC-2 under my belt, I wanted to push myself even further; I wanted to learn more and look for ways to be more productive and efficient in my daily tasks.
I was able to find solutions to all these needs with my third LPI Certification, DevOps Tools Engineer.
In my opinion, the DevOps Tools Engineer certification is an essential toolbox for any software engineer who wants to boost their career.
I am very satisfied and happy with my career path because, through learning, I have been able to change my professional life.
Currently, I work as an independent consultant and instructor in LPIC-1, LPIC2, and DevOps Tools Engineer with several institutions and engineering schools in Tunisia and France; I support companies that want to migrate from their current architecture to a new approach that focuses on communication, collaboration, integration, and automation to improve the workflow between developers and system administrators.
Last but not least, I contribute to the evolution of the DevOps and Linux community in my country by participating in "Education" days as a coach to demonstrate how easy it is to use these approaches and "software bricks"  to optimize processes and decrease delays.
Sonia Ben Othmann: LPI Maghreb
Sonia Ben Othmann represents the Linux Professional Institute (LPI) in Northern Africa. In 2012, her work led to the program with the Tunisian government that Ghassen took advantage of. If you want to know more about Sonia's work and how she supports the growth of women and girls in FOSS, please read this blog posting.
Your LPI story
With more than 200,000 certification holders, stories as Ghassen's one can be repeated endlessly. If you are the protagonist of such a story–if an LPI's certification has improved your career, your life, or your community through education and other related projects–we invite you to contact your regional representative to have that story collected. This post is part of the #LPIStory series.