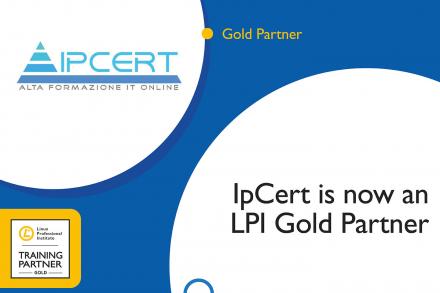 March 18, 2022
IpCert is now an LPI Gold Partner
IpCert is an Italian company specializing since 2009 in the provision of highly professional courses in IT, aimed at helping students gain the most critical industry certifications. The company offers courses toward Linux Professional Institute (LPI) certifications, along with other technologies (Microsoft Azure, VMware VCP-DCV certification, Cisco CCNP certification, etc.). An LPI partner since 2015, IpCert just renewed the partnership, upgrading it to the Gold level. 
Concerning the renewal with the upgrade of the partnership, Claudio Palombi, IpCert's CEO, said:
"I can only express my great satisfaction with the partnership renewal with LPI. This year we are doubly pleased because, in addition to continuing a collaboration that has lasted for several years, we have managed to make this link even more consistent by making an important upgrade in our level of partnership.
"Starting this year, IpCert Alta Formazione IT Online can boast of being an Approved Training Partner Gold, and this is,  for us, a further stimulus but at the same time an element that makes us even more responsible towards the students who turn to us to acquire specific skills in the use of the Linux operating system and open source software.
"I would like to thank the Linux Professional Institute for this new opportunity, which I am sure we will make the most of."
Daniele Cirio, LPI's Account Executive for Italy, Ireland, and United Kingdom, added:
"We are delighted at LPI to see IpCert maintaining its commitment to the LPI's mission through its partnership upgrade. The pandemic, and now its tail, demonstrated how important it is to keep high-profile IT training available. Scaling up that commitment, IpCert demonstrates how important it is for LPI to have in the field partners as receptive to the local needs as IpCert. In 2022 LPI has been decreasing the price of its exams in Italy: we look forward to seeing this increase uptake of certifications through participating in and improving the wider scenario of the Italian digital transformation. "
IpCert provides its training for the Linux Essentials, LPIC-1, LPIC-2 exams in Frosinone, Italy, and worldwide, online.