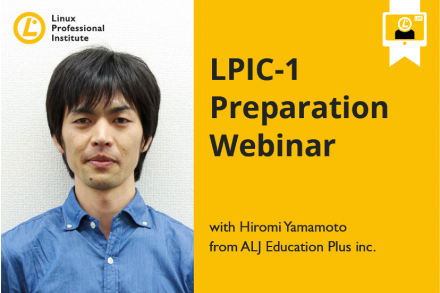 Join our LPIC-1 Preparation Session (Japanese)
2020-06-07
Missed the webinar? Watch the recording.
The Linux Professional Institute (LPI) LPIC-1 Preparation webinar will be hosted by Hiromi Yamamoto, Professional Trainer from ALJ Education Plus inc., an LPI Partner, on 2020-06-07 (Sat) at 13:00 JST. Hiromi will discuss how to prepare yourself to take the LPIC-1 exams.
Participate and learn more about;
the objectives prior to taking your exam,
the exam structure,
why obtaining your certification will be professionally beneficial
Come prepared. You can review the exam objectives here.
Linux Professional Institute
Linux Professional Institute (LPI) is the global certification standard and career support organization for open source professionals. With more than 175,000 certification holders, it's the world's first and largest vendor-neutral Linux and open source certification body. LPI has certified professionals in over 180 countries, delivers exams in multiple languages, and has hundreds of training partners.