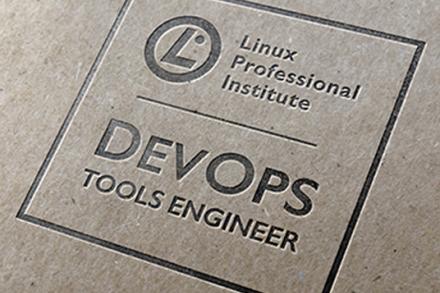 October 16, 2017
Linux Professional Institute Launches DevOps Tools Certification
Following intensive development work with the DevOps and open source communities, the Linux Professional Institute (LPI) is officially releasing the new Linux Professional Institute DevOps Tools Engineer certificate on Monday, October 16, 2017. This release follows the successful worldwide beta testing over the previous months. With this certification, LPI is helping to deal with the growing importance of DevOps competencies in the ICT industry and the need to verify individual skills of its practitioners for potential employers.
The Linux Professional Institute DevOps Tools Engineer is a globally available and accessible credential which will assist in closing the gap in the supply landscape and adds a significant component to LPI's open source skills certification portfolio. "Considering that most popular DevOps tools are open source, it's a logical step that the certification we have developed demonstrates the ability to use these technologies efficiently and well," explains G Matthew Rice, Executive Director of LPI.
DevOps competencies are increasingly in demand and the reasons are obvious. "Using these tools creates a tremendous benefit for both software developers and administrators," says Fabian Thorns, Director of Certification Development of LPI. On the one hand, DevOps eases the job of administrators by enabling them to handle recurring tasks automatically.  On the other hand, DevOps give developers the opportunity to take over tasks for which they would have previously needed an administrator. This dynamic creates new freedoms and efficiencies that benefit everyone, including employers.
The Linux Professional Institute DevOps Tools Engineer certification is ideal for anyone who is technically involved in the development or delivery of software.  There is no prerequisite credential for taking the Linux Professional Institute DevOps Tools Engineer exam, however, it is strongly recommended that a candidate already have a strong background and certification in system administration or software development. Fabian Thorns: "We recommend an existing certification in the respective primary field. This can just as well be Linux administration or Java software development."
More information on LPI's DevOps exam is available at https://www.lpi.org/devops. The learning objectives are described at https://wiki.lpi.org/wiki/LPIC-OT_DevOps_Tools_Engineer_Objectives_V1.
About the Linux Professional Institute (LPI)
LPI is the global organization for certification standards and career support for open source professionals. With more than 500,000 exams delivered, it is the world's first and largest Linux and open source certification authority. LPI has certified professionals in more than 180 countries, delivering exams in 9 languages ​​and working with more than 400 training partners.
Contact person:
Evan Leibovitch
Director of Community Development
Linux Professional Institute
41 John Street, 2nd Floor, Suite #1
Port Hope, Ontario L1A 2Z3
E-Mail: eleibovitch@lpi.org