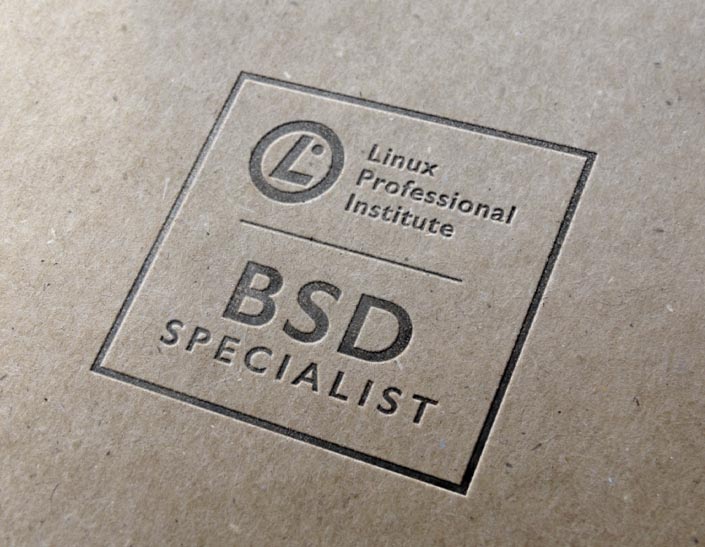 Linux Professional Institute introduces a certification covering professional working skills in administering BSD installations
Linux Professional Institute extends its Open Technology certification track with the BSD Specialist Certification. Starting October 30, 2019, BSD Specialist exams will be globally available. The certification was developed in collaboration with the BSD Certification Group which merged with Linux Professional Institute in 2018.
G. Matthew Rice, the Executive Director of Linux Professional Institute says that "the release of the BSD Specialist certification marks a major milestone for Linux Professional Institute.  With this new credential, we are reaffirming our belief in the value of, and support for, all open source technologies. As much as possible, future credentials and educational programs will include coverage of BSD."
"The BSD Specialist certificate requires passing a single exam. This exam tests skills in administering FreeBSD, NetBSD, and OpenBSD systems. Covering the three major BSD systems ensures that the certification holder is comfortable working in BSD-based environments of any kind" says Fabian Thorns, Director of Product Development.
Dru Lavigne, Chair of the BSD Certification Group adds, "We are excited that the partnership with the Linux Professional Institute highlights the demand for BSD administration skills to a larger audience. The BSD Specialist exam follows the same rigorous standards as the former BSD Associate exam, ensuring that the certification demonstrates competency in the core skills employers demand in a BSD environment."
There is no prerequisite certification for taking the BSD Specialist Engineer exam, however, the candidate should have more than a year of experience in administering BSD systems of various kinds.
The typical BSD Specialist certification holder is a System Administrator of BSD operating systems and  has an understanding of the architecture of the BSD operating systems. This includes the ability to manage various aspects of a BSD installation, including the management of user accounts and groups, processes, file systems, installed software, and client networking configuration. The candidate is experienced in using standard BSD and Unix tools on the command line. In keeping with LPI policy related to software neutrality, skills tested will be applicable across multiple variants of BSD.
More information on BSD Specialist exam and the learning objectives can be found at www.lpi.org/our-certifications/bsd-overview. For additional information regarding the LPI certification program, please visit www.lpi.org or contact Fabian Thorns, Director for Product Development at fthorns@lpi.org.
Linux Professional Institute is aware that economic circumstances vary greatly around the world and adjusts the prices of exams to candidates' country of residence. We use the United Nations Human Development Index to determine appropriate pricing levels by country. The same will imply to the BSD Specialist exam price. Exam will be available on Pearson Vue on the day of October 30, and vouchers will be available on lpimarketplace.com starting November 1, 2019. 
About the Linux Professional Institute (LPI)
LPI is the global organization for certification standards and career support for open source professionals. With more than 175,000 certification holders, it is the world's first and largest Linux and open source certification authority. LPI has certified professionals in more than 180 countries, delivering exams in multiple languages, ​​and has hundreds of training partners.