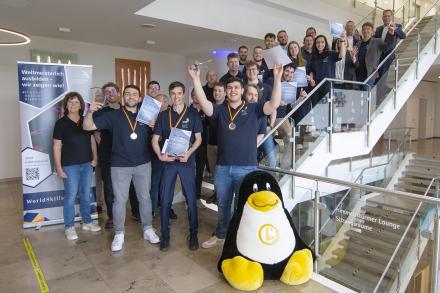 May 20, 2022
LPI at WorldSkills Germany: Amazing Young IT Talents
WorldSkills, the world championship of professions, looks for outstanding talents in different job profiles each year. Since 2017, Linux Professional Institute (LPI) has supported WorldSkills Germany in Skill 39, IT-Network Systems Administration with exam tasks for the Linux sector. Last week, the German Championships took place in Kassel and we were excited to be there. The wonderful young IT talents really impressed us.
Twelve candidates had made it to the finals of the German Championships and competed against each other at the ECKD Event and Conference Center in Kassel. In front of a large audience and under time pressure, they had to organize complex information and telecommunications technology systems in Cisco, Microsoft, and Linux environments. And although they were all competing against each other, they grew together as a team during the championships.
"That is what WorldSkills is all about," said Hubert Romer, head of WorldSkills Germany. It is about promoting young talents worldwide and having them compete against each other on a globally consistent level. However, networks and friendships are also built in the process. "Once the WorldSkills fire has been lit, it never lets go," said Romer.
Linux Professional Institute was represented by Reiner Brandt, at the same time head of the IT Network North Hesse, which had brought the WorldSkills to Kassel. As LPI Channel Partner, his company Open Source Certification GmbH had helped to develop the examination tasks for the Linux part of WorldSkills, as in previous years. "It is always a great pleasure for us to be involved here and we look forward to supporting WorldSkills in the years to come," said Reiner Brandt.
Florian Zimmer won the competition in Kassel ahead of Eren Ahmet Koyuncu, Julian Jäger, Sebastian Plötz, and Jan Samuel Nichau. The five young men will be part of the German national team in Skill 39 and represent their country at the European and World Championships.
The WorldSkills German Championships in Kassel were organized by IT-Netzwerk e.V. and Regionalmanagement Nordhessen and supported by the sponsors ECKD, CISCO, Computacenter, IHK Kassel-Marburg, quindata, Linux Professional Institute, Techniker Krankenkasse, MultiMediaBerufsbildende Schulen, and IT-Bildungsnetz e.V.