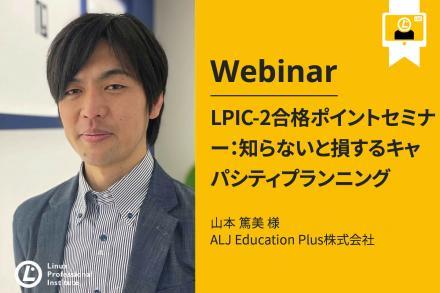 LPIC-2 Webinar: Capacity Planning You Need to Know (Japanese)
February 14, 2021
Missed the webinar? Watch the recording
The Linux Professional Institute (LPI), LPIC-2: Capacity planning you need to know, will be hosted by Hiromi Yamamoto on 2021-02-14 (Sun) 13:00 JST. He will discuss the process of capacity planning to prepare you for the LPIC-2 exam. We welcome all of you who learn Linux!
Participate to learn more about;
what you need to know about capacity planning
the beneficial way to study,
and why you should get LPIC-2
When is this webinar being hosted in your time zone?
Amsterdam, Berlin, Rome (5:00AM)
Toronto, New York (10:00PM)
Sao Paulo (1:00AM)