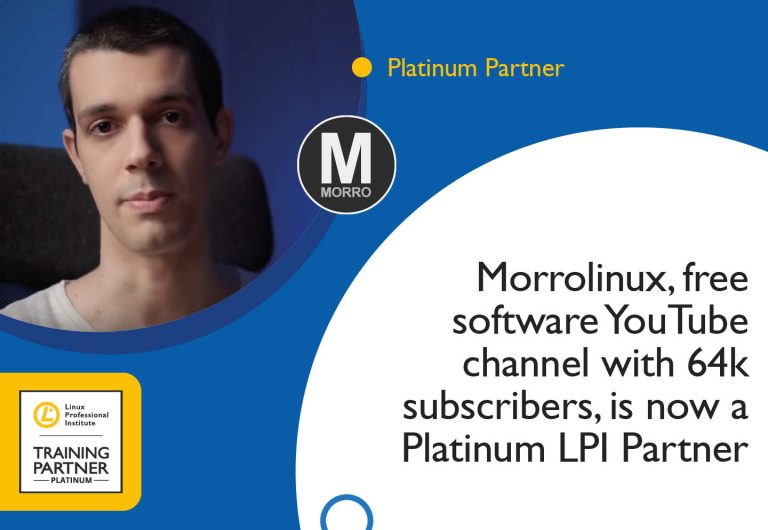 Morrolinux, aka Moreno Razzoli, is the newest Linux Professional Institute (LPI) Platinum Training Partner (ATP) in Italy.
Morrolinux is a one-man project providing online training for GNU/Linux and networking, supporting open source video-editing related tools, and–last but definitely not least–setting up, designing, developing, curating, and executing everything for a community that currently has reached 64k (and counting) subscribers on its YouTube Channel.
Daniele Cirio, ITA-IRE-UK Account Executive of Linux Professional Institute for Italy, said:
"It is with great pleasure and enthusiasm we start this new Platinum Partnership journey with Moreno "Morrolinux" Razzoli. With Moreno we are taking a huge step towards a broad, already existing, Linux community. We are very happy to see Moreno willing to give his Linux training framework and courseware even more consistency, reconnecting them to the LPI training umbrella. "
Moreno Razzoli, Morrolinux CEO, added:
"GNU/Linux and Open Source software in general are becoming hot topics lately, enjoying widespread adoption in both major and small enterprises, so it's really important to have qualified professionals to satisfy the ever-increasing job demand for Linux and open source technologies.
I consider LPI a pillar for good quality education paths in the Linux and F(L)OSS landscape. Being myself a GNU/Linux enthusiast, trainer and ambassador, I couldn't be happier to take part in this program and popularize Linux certifications in the Italian community by delivering up-to-date, high quality, and easy-to-follow learning material for newcomers to study, to get familiar with the OS, its philosophy, and ecosystem."
Morrolinux students on Udemy and YouTube channel subscribers will soon receive a bundle offer with a special discount for their Linux Professional Institute exams.