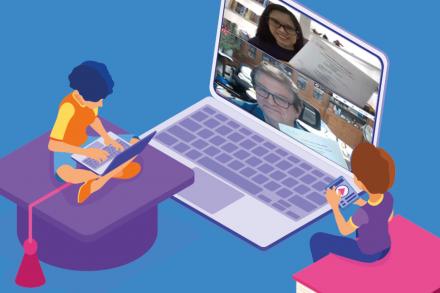 March 5, 2021
iACADEMY partners up with Linux Professional Institute to prepare Philippine students for careers in Linux and Open Source
Linux Professional Institute (LPI) welcomes iACADEMY as a Platinum-level Approved Academic Partner. Partnering with LPI, the goal of iACADEMY is to provide students with basic Linux proficiency that is required for Full Stack web developers, DevOps Engineers, and positions that are in great demand around the world. The Philippines is considered a powerhouse for remote IT jobs, whether individual freelancers or entire teams. 
The new collaboration, initiated by OUTCERT, the global technology education platform, was celebrated at the launch of iACADEMY Pro School of Professional Education and Lifelong Learning (iACADEMY Pro) on January 20, 2021 alongside iACADEMY partners Alibaba Cloud Academy, Alibaba Business School, Unity Technologies, Toon Boom, and OpenEDG Python Institute. 
"We are proud to be associated with LPI and OUTCERT, whose joint commitment to the Open Source community in the Philippines is aligned with our goals as pioneers in game-changing initiatives." said Vanessa Tanco, iACADEMY's President and CEO.
"The iACADAMEY partnership is in total alignment with our core mission of promoting Open Source by supporting the people who work with it in the Philippines, through a combination of consistent skills' learning and certification of technologies which are key for better employment opportunities", said Rafael Peregrino da Silva, Linux  Professional Institute's Director of Partnerships. "With roughly 25 million people getting secondary and tertiary education in the Philippines right now, according to UNESCO, plus a big market of IT graduates looking for new job opportunities, our certifications are a passport to improve the professional profile of job candidates, leading to better chances of getting employed and better salaries."
About iACADEMY
iACADEMY is a school in Makati that offers specialized programs in Computing, Business, and Design. Founded in 2002, iACADEMY's programs were developed to address the mismatch between graduates of academic institutions and the actual needs of the industry. iACADEMY is Asia's first Toon Boom Center of Excellence, a Unity Accredited Training Partner, a Platinum Academic Training Partner of the Linux Professional Institute, a the country's first Training Partner of the OpenEDG Python Institute, the first Philippine Education Partner of the Alibaba Cloud Academy and the first Philippine school to be an Education Partner of the Alibaba Business School. These partnerships have allowed iACADEMY and its students to be industry-ready through technology-centered and industry-driven programs and offerings. This innovative and inclusive learning environment has contributed to iACADEMY being recognized and awarded as the most innovative education provider by the Global Brand Awards. 
About iACADEMY Pro School of Professional Education and Lifelong Learning
The iACADEMY Pro School of Professional Education and Lifelong Learning responds to changes brought about by the pandemic. To respond to the current changes and the dynamic demands of the market, iACADEMY Pro offers programs supporting its three pillars: 1) Jump start your business from home, 2) Advance your corporate career, and 3) Learn something new to earn more revenue. iACADEMY Pro offers international certification courses, corporate courses, masterclasses, webinars, and other training programs surrounding those pillars which shapes learners to be more competitive for a better normal.
About Linux Professional Institute
Linux Professional Institute (LPI) is the global certification standard and career support organization for open source professionals. With more than 200,000 certification holders, it's the world's first and largest vendor-neutral Linux and open source certification body. LPI has certified professionals in over 180 countries, delivers exams in multiple languages, and has hundreds of training partners. Our mission is to promote the use of open source by supporting the people who work with it.
About OUTCERT
OUTCERT is the Certification Hub, a technology education platform that aggregates professional certifications in all tech-related areas. Targeting mainstream users around the world, OUTCERT aims to offer dynamic, engaging educational and career roadmaps that encourage and stimulate lifelong learning.