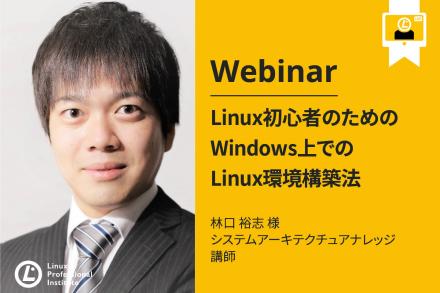 Join our How to Build Linux on Windows for Beginners (Japanese)
2020-07-18
13:00 (UTC+9)
The Linux Professional Institute (LPI) webinar, How to Build Linux on Windows for Beginners, will be hosted by Yuji Hayashiguchi from System Architecture Knowledge on 2020-07-18 (Sat) 13:00 JST. Yuji will guide us through how to build linux on your windows. Better yet, let's try it together! This webinar will be hosted in Japanese.
Before you join this webinar, we recommend you, especially those who are new to linux, to download CentOS so that you can learn more efficiently.
Linux Professional Institute
Linux Professional Institute (LPI) is the global certification standard and career support organization for open source professionals. With more than 175,000 certification holders, it's the world's first and largest vendor-neutral Linux and open source certification body. LPI has certified professionals in over 180 countries, delivers exams in multiple languages, and has hundreds of training partners.
When is this webinar being hosted in your time zone?
Amsterdam, Berlin, Rome (6:00AM UTC+2)
Toronto, New York (12:00AM UTC-4)
Sao Paulo (1:00AM UTC-3)