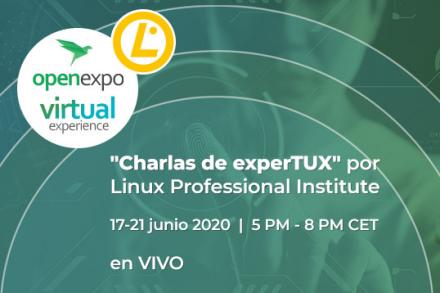 LPI Excited to Support OpenExpo Virtual Experience 2020
June 17 - 21, 2020
Linux Professional Institute (LPI) invites you to connect, virtually, with them at OpenExpo Virtual Experience 2020 taking place June 17 - 21, 2020. LPI is thrilled to be cooperating with OpenExpo by hosting the "experTUX Talk" track. 
The Virtual Experience
This initiative arises after the enormous success of the online activities within Innovation, Digital Transformation and Open Source, in which topics such as have been discussed Cybersecurity, Blockchain, IA, Virtual Reality, IoT, Big Data. 
Participate and enjoy more than 50 activities from technology and innovative professionals, with the aim of promoting the ecosystem and generating networking.
"experTUX Talk "
hosted by Linux Professional Institute
LPI will be hosting the "experTUX Talk" track each day from 5:00pm - 8:00pm CET with presenters, LPI Partners in Latin America and the Caribbean. Stay tuned for more details!
LPI Exam Vouchers Offered
Exam vouchers are being offered exclusively for OpenExpo 2020 attendees at a 50% discounted price. The discounted price will reflect the price that is offered by Pearson Vue in your country of origin. You can look up exam prices here, by country: https://www.lpi.org/exam-pricing. 
To obtain an exam voucher, please email events@lpi.org. Please include; first name, last name, country of origin, email address, and which of the LPI certifications you would like an exam voucher for. You can request up to 2 vouchers. You will receive your exam voucher code by Friday, June 26, 2020. Your exam voucher will be valid for 1 year.
Available Testing Options
Please note that there are available platforms available for testing.
Online Platform - OnVUE:
LPI will begin offering the Linux Essentials and LPIC-1 (101 and 102) exams in English via the Pearson VUE OnVUE system on May 31, 2020. 
Candidates will be able to write the exams and get certified from home. Additional exams and languages will be made available as soon as possible. Candidates will be able to schedule their online exams beginning May 31. Further instructions on the registration and testing process will be published on www.lpi.org/coronavirus.
Physical Platform - PearsonVUE Test Centers and Partner Test Centres:
All Linux Professional Institute exams available that are published by Pearson Vue, once test centers have reopened https://home.pearsonvue.com/lpi
Authorized Testing Centers run by LPI Partners.
Exam payment to be made at the time of taking the exam. Prices depend on the country you will be taking the exam in. https://www.lpi.org/exam-pricing