Linux Professional Institute LPIC-3 High Availability and Storage Clusters
The LPIC-3 certification is the culmination of the multi-level professional certification program of the Linux Professional Institute (LPI). LPIC-3 is designed for the enterprise-level Linux professional and represents the highest level of professional, distribution-neutral Linux certification within the industry. Four separate LPIC-3 specialty certifications are available. Passing any one of the fourexams will grant the LPIC-3 certification for that specialty.
The LPIC-3 High Availability and Storage Clusters certification covers the administration of Linux systems enterprise-wide with an emphasis on high availability systems and storage.
Current version: 3.0 (Exam code: 306-300)
Previous version: 2.0 (Exam code 304-200)
Available until June 20th, 2022
Objectives: 306-300
Prerequisites: The candidate must have an active LPIC-2 certification to receive the LPIC-3 certification.
Requirements: Passing the 306 exam. The 90-minute exam is 60 multiple-choice and fill in the blank questions.
Validity period: 5 years
Cost: Click here for exam pricing in your country.
Languages for exam available in VUE test centers​: English (Japanese coming soon)
Languages for exam available online via OnVUE: English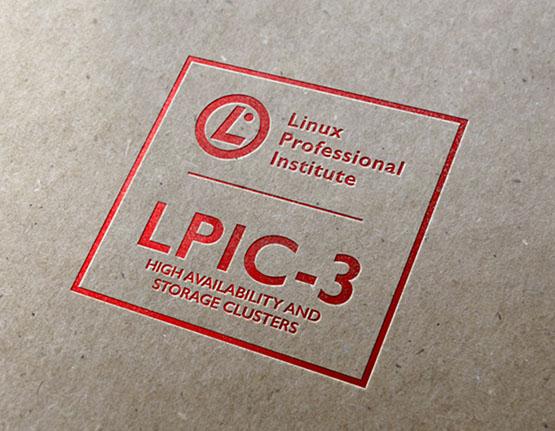 LPI is committed to providing the IT community with exams of the highest quality relevance and accuracy.
77% dos profissionais certificados receberam um aumento salarial em até 6 meses.
-Pearson VUE Value of IT Certification Report 2021
As certificações para administradores de sistemas que mais ganharam valor nos ultimos três meses estão todas relacionadas a Linux: LPIC-2, LPIC-3 e Red Hat Certified Systems Administrator
-Foote Research Group IT Skill Certs Pay Data Trend 2021
63% do recrutadores buscam colaboradores que podem criar soluções baseadas em código aberto.
-Open Source Jobs Report 2020
Para receber a certificação LPIC-3 High Availability and Storage Clusters, você deve ser certificado LPIC-2 e passar no exame 306
No LPI, tiramos as adivinhações do que está no exame. Nossos objetivos de exame mostram os tópicos que você pode esperar encontrar nos exames, assim como a importância relativa desses tópicos. Não importa quais recursos de estudo você escolha para se preparar para seus exames do LPI, a revisão dos objetivos individuais do exame deve estar no centro de qualquer plano de estudo.
Tópicos do exame LPIC-3 High Availability and Storage Clusters
High Availability Cluster Management
High Availability Cluster Storage
High Availability Distributed Storage
Single Node High Availability
92% dos empregadores dizem que indivíduos certificados em TI recebem um salário inicial maior que aqueles sem certificação
-CompTIA HR Perceptions of IT Training and Certification Study
44% dos recrutadores estão aumentando mais os salários de seus talentos em código aberto do que de outros departamentos
-open source Jobs Report
87% das organizações dizem ser difícil encontrar talentos em código aberto
-open source Jobs Report