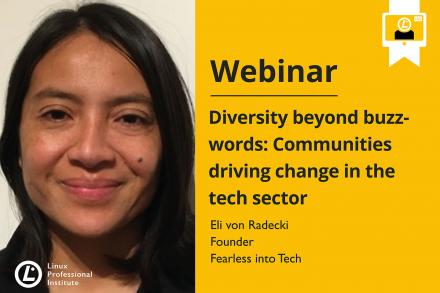 Diversity Beyond Buzzwords: Communities driving change in the tech sector
December 08, 2020
Missed the webinar? Watch the recording
Join Linux Professional Institute (LPI) virtually on December 8, 2020 from 600 PM - 7:00 PM (UTC+1) for a deep dive into how Fearless into Tech has created a community managed by female volunteers driving a mindset of change.
In recent years, promoting diversity in the workforce has certainly become one of the topmost important tasks of business leaders and HR. But how do you actually make businesses diverse in the typically male dominated tech sector? What does it take to make women want to enter and conquer this sector, beyond fashionable buzzword, talks and initiatives? The answer is clear: A community! 
Eli von Radecki, Founder, Fearless into Tech will walk us through;
how communities can play an essential role in the support of women
raising awareness on the complexities around diversity
providing confidence and care
and outlining the benefits of diversity for innovative, strong and resilient businesses.
Come prepared with questions! Register Now. 
You also can live stream the webinar through Youtube! Click here at the beginning of the webinar!
When is this webinar being hosted in your time zone?
Tokyo (1:00AM UTC+9)
Amsterdam, Berlin, Rome (6:00PM UTC+2)
Toronto, New York (12:00PM UTC-4)
Sao Paula (1:00PM UTC-3)
Lima (11:00AM UTC-5)