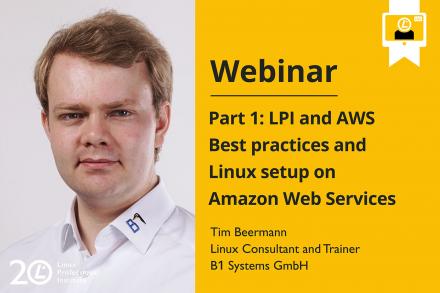 Series part 1: LPI and AWS (German)
September 10, 2020
Missed the webinar? Watch the recording
Join Linux Professional Institute (LPI) Central Europe and Tim Beermann, Linux Consultant and Trainer at B1 Systems GmbH on September 10, 2020 at 2:00PM CEST for a deep dive into best practices and Linux set ups on Amazon Web Services (AWS). The webinar will be held in German language.
Linux operating systems (distributions) form the main part of the operating systems used in AWS and provide the basis for a large number of services and applications. How such a service or such an application can be provided is based on demonstrated by an example.
Tune into this free webinar to learn more about;
the advantages and possibilities of AWS in combination with Linux 
best practices in set up
why an LPIC certification is useful for project start up and operation
This webinar will be hosted in German. 
Come prepared with questions! Register Now. Space is limited. Please also join us as we live stream through the LPI Youtube channel!
When is this webinar being hosted in your time zone?
Tokyo 9:00PM
Toronto, New York 8:00AM
Sao Paulo 9:00AM
Lima 7:00AM