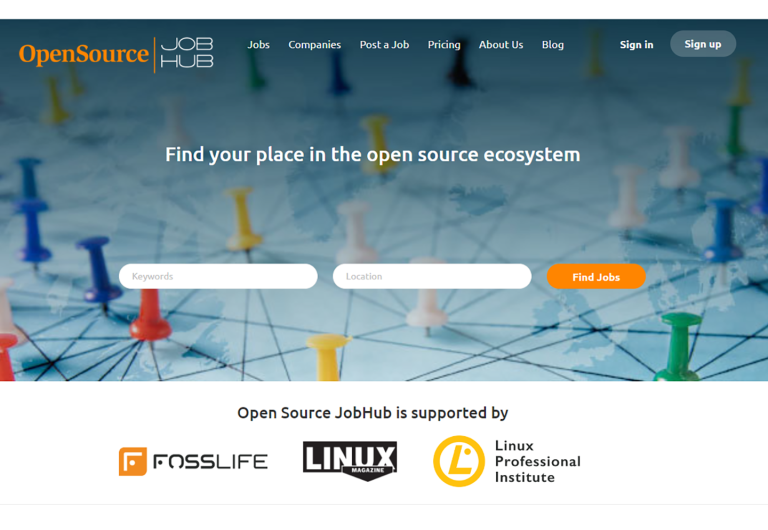 Open Source JobHub (OSJH), a unique site that connects potential employees with companies working with free and open source software, has just formed a Sustaining Partnership with Linux Professional Institute (LPI).
Launched in the first week of May,OSJH is similar, on the surface, to other job listings: Companies post their openings and job hunters respond. But several aspects make OSJH unique.
First, of course, is the focus on open source. Many people—not just developers—prefer to support the open source community if they can. OSJH saves them from sorting through 3,000 companies at a job site to find the few who pay for open source work.
And the site is not limited to developers, although currently the majority of jobs fall under that category. You can also find openings in sales, marketing, and accounting. Founder Brian Osborn told me they even had a job opening for an editor at one point, a detail that warmed my heart.
Another unique aspect of OSJH is that you can go through the whole process—including applying for jobs—without signing up. That is, you can preserve your privacy.
Up to 130 companies have simultaneously posted jobs at times, and current openings run into the many hundreds. And this is an early stage of the site. Among the organizations posting are some very familiar to open source advocates, such as the Linux Foundation, Mozilla, and Percona.
Osborn says that OSJH avoids burdening companies with fields to fill out. He says that other job sites do that, requiring a lot of clerical work to post a job. Most of the information companies supply to OSJH is in free text. Job hunters can then search for keywords (such as Python or Kubernetes) in order to turn up matches.
The missions of LPI and OSJH are closely aligned: to help people get into open source and move up once they're in. LPI is committed to helping OSJH grow. And given the popularity of open source tools, there is good reason to believe it will.
Open Source JobHub is supported by FOSSlife and Linux Magazine.